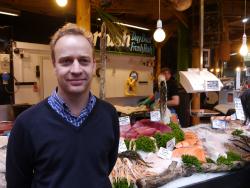 Now in his eleventh year at 28 year-old iconic New Zealand wine brand, Cloudy Bay, winemaker, Nick Blampied-Lane (pictured) hosted a mostly blogger-focussed cooking competition to augur vintage 2013 of Sauvignon Blanc.
Clearly a gastronome, Blampied-Lane dives recretaionally, for crayfish and scallops in the Marlborough Sounds. While nosing a glass of the Sauvignon, he advised all four teams, including'Kiwi Bluestocking' (which featured myself) to:'match, rather than contrast the flavours of the wine.' Aromas included: nettles, green bell peppers and even tropical fruit salad (particularly passion fruit), followed by a fresh, fairly curvaceous, long-lived palate.
At the recently-rejuvenated Borough Market, we were given just 45 minutes to battle through gangs of gawping tourists to uncover ingredients totalling no more than £30 – a tough challenge given stallholders' often lofty prices despite apparently reasonable rents. Wisely, Blampied-Lane took sanctuary at a local wine bar, Wine Pantry where he discovered English sparkling wine.
It was soon time to return to the kitchens of city restaurant, Fish Market. There my team would cook'gentrified' fish and chips.
Stirred by the greeting aroma of contestants' finished efforts, both Fish Market's chef, Barry Macmillan and Blampied-Lane didn't just judge, but devoured the dishes. Unfortunately, team Kiwi Bluestocking was not victorious. Instead, on account of it being'the best match with the wine,' Stuart Hudson and Andrea Nicole Montague of consultancy,'Forgotten Hospitality'  took first place with classic, seafood risotto, winning Cloudy Bay wines and dinner at the Royal Albert Hall's Cloudy Bay Bar.
Instead of pursuing science, like his geneticist father, Blampied-Lane became a winemaker after visiting France as a teenager, later working in Burgundy and Bergerac.
Established in 1985, Cloudy Bay's exuberant style of Sauvignon Blanc – generally much bolder than Sancerre or Pouilly Fumé – won UK fans almost instantly. Even today, shortages of supply can occur…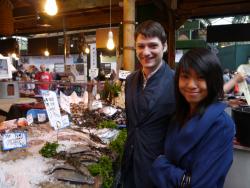 Posh Fish and Chips
 Bream
Into the gutted fish, receptive cavity raised upwards, fill with mixture of micro-diced lemongrass, lemon juice, a splash of Cloudy Bay Sauvignon, diced squid and smoked sausage, sliced capers, rings of fennel, mashed garlic and chilli wheels and seasoning. Seal tightly with foil, maintaining upwards posture, and bake for approximately 45 minutes.
 Clams
Steam open in broth of Cloudy Bay Sauvignon Blanc and garlic. Sprinkle over opened foil of fish on oval dish and garnish with diced chives.
 Chips
Peel, section and carve parsnips into thin fries, confer into baking tray, applying a light coat of black truffle/olive oil. Roast until brown and crisp, shaking occasionally for even cooking.
Salad
Tear watercress, rocket and lolo rosso leaves into a large bowl. Add diced cucumber minus peel, thinly-sliced radish and quartered baby tomatoes. Blend with a quarter of teaspoon of lemon zest, grapefruit segments, flavoursome olive oil, a few dashes of fish sauce, pinch of celery salt and freshly ground pepper.
Scallop ceviche £11) and 175ml glass of Cloudy Bay Sauvignon Blanc 2013 (13.50) or bottle (£58) is available throughout October at Fish Market. Sauvignon Blanc is available from Majestic, while sparkling Pelorus and Pinot Noir are available  at New Street Wine shop next-door to the restaurant.