36A Clapham Old Town, SW4 0LB
As a North London lass, asking me to travel to Clapham for an Indian meal's pretty much like inviting me to Chennai for a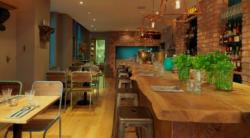 spot of supper. But on hearing of a brand-new venue claiming to celebrate the little-represented cuisine of Purab, I booked a flight – ahem, jumped on a tube – faster than you can say Jack Robinson. Or, perhaps more aptly,'Shah Rukh Khan'.
Zumbura was masterminded by a triple-threat team: Aamir Ahmad, Sean Galligan and David Garrett, co-founders of furniture retailer Dwell. That accounts for the deep turquoise walls, shabby-chic styling, and the organic wooden form of the dining bar, then.  I bet a fair few covetable accoutrements will fetch up in Claphamite kitchens.  My lack of eye-contact is no slur on my companion's visage; I just really like the bright birdscape adorning the ceiling.
En route to the restaurant, we pass a waitress handing out samples of what I realise latterly are slivers of shammi kebab and aloo tikki. Thinking it's dude-foody bits of burger, we refuse, in anticipation of savouring something altogether more spicy. The cultural confusion is to prove an omen. Although classic curryhouse decor can flock right off, from the exterior, nothing betrays Zumbura's Indian theme.
Even once inside, there's little hint that you've chosen an Indian restaurant, bar a menu note signed'Aamir', attesting to the family provenance of the recipes – note, no mention at all of'Indian-ness' of said recipes. I'm not even sure the casual diner would realise they're sampling subcontinental stuff – it's almost deliberately downplayed. And that'understatement' is to prove a theme.
We kick off with a cocktail. The'Indian Negroni' is a cross-breed – a hybrid of a Manhattan and a classic Negroni that adds Woodford reserve to the mix.  We reserve judgement, but have to concur it's a concoction suffering a bit of an identity crisis. As a sucker for a salty lime soda,'Fruity Wallah' wins me over; a mojito-like melange featuring apple, lychee and the twang of chaat masala.
Dishes are designed to be shared; portions are small and served all together, in that'Indian tapas' manner Imli introduced. We skip'small plates'; seduced by stews, grills and veggies. Hari murgh delivers a duo of hefty bone-in chicken chunks in a verdant green marinade that's neither penetrated the meat nor prevented it drying out. Pink pickled onion slivers add pleasant punch.
So to'sauced'; the source of much of my pre-visit excitement. But to my consternation, Kallia resembles nothing so much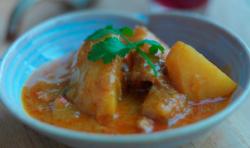 as an Irish stew. It's the sort of dish you'd eat in a family home, granted, but only if you dropped in unexpected on a weekday evening and stayed for tea. Lamb-on-the-bone is tender, but tastes of little more than the chunks of turnip that bob beside it.
Surely'homestyle' chicken salaan will win me over? Once again, the meat's on-the-bone, once again, it's bland. It's like some crazy parody of that'Goodness Gracious Me' sketch, only I'm not'out for an English'.  Veg dishes are better; although the advertised amchur – dried mango – which supposedly seasons the ghugni seems absent in the black chickpea concoction.
Braised parwal is the meal's saving grace – delivering silky-soft slivers of the little gourd charmingly nicknamed'gentlemens' toes'; the vegetable's velvety bite punctuated by the pleasant crunch of its seeds, interspersed by tangles of finely-sliced sweet-sour onions. Give me a bucket of this and I'd be a happy chappie.
To the remainder, I can't even add relish with a condiment – imli chutney just tastes like the plain paste you get when you pour boiling water onto block tamarind. A selection of diminutive breads are brought to table wrapped in a napkin which retains warmth but renders the chapatti tough and the puffy poori a burst, oily balloon. Best of the three is the Northern-style thick, square paratha.
The Indian dessert menu is always a sticking point. Which path do you tread – play safe with hoary bought-in ice creams; create clever fusion puds; or gamble with classic Indian sweetmeats? Refreshingly, Zumbura has gone the latter route. But, as a confirmed addict, I find both gajar halwa and sooji low on sweetness and satisfaction. A super-strength'Spice Islands' cocktail has more flavour than our full feed.
Before we eat, a bloke tells his girlfriend he can't remember what he had on his last visit. At the time, I think it's bizarre, but now I get it. The menu descriptions are sparse; but, then, perhaps that's because there's really not much to say. You won't order something that you'll actively dislike. I just desperately want to be able to say'mmm', not'meh'. Our food's lacking in flavour and, I suspect, heart.
There's no doubting head chef Raju Rawat's pedigree, with stints at the Cinnamon Club, Benares, and Bombay Bicycle Club under his belt. His brief at Zumbura is to deliver'fresh, healthy, light food; totally authentic; but without compromising on flavour'. The first? Undoubtedly. The second? Possibly. The third… One wonders if he got the full memo.
Co-founder Aamir Ahmad claims to have'always been really disappointed by Indian restaurants in the UK'. He believes the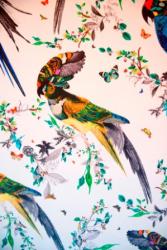 food on offer differs vastly from the fare you'd eat in a traditional home, and that the majority is a vastly-augmented, British contrivance. I broadly agree, and wish I could honestly say Zumbura's not perpetuated that disappointment. 
Perhaps it's just us – the place is packed on a weekday evening, and the party next to ours evidently love the shammi kebabs so much that it lies about not receiving the order in order to nab another round. Zumbura's Facebook feed is full of swooning descriptions of flavour-packed preparations. I taste only my own disappointment; and feel I ate elsewhere to these raving reviewers.
As you'd expect from a concept masterminded by the founders of Dwell, it looks good but, unlike the old adage, it neither tastes nor does you the same. I might get castigated for a'narrow view of Indian food' and'lack of understanding of the cuisine'. I can live with that. I don't want over-rich, over-spiced formula curries; and neither do I need Michelin-starred, deconstructed dhabba dishes.
Whatever its regional provenance, whether it's simple dal-rice or a full-on feast, all I ask of any kind of Indian meal is that it satisfies my soul and my stomach. At least one of the two, and preferably both.  For me, Zumbura did neither. For the rest of the crowded house, it seemed to tick all the boxes. It's fine. It'll do well. It's not for me.