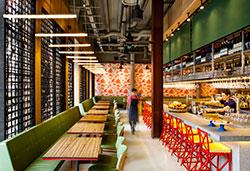 Naamayaa Café, 407 St John St, EC1V 4AB  www.naamayaa.com
In terms of food, university is the eternal get out of jail free card – allowing you to ingest weird and disgusting culinary combinations in the name of being a student. Eating a burger for breakfast? Standard. Adding tuna to Supernoodles to make them'healthy'? Obvs.
Amongst many of the food crimes I committed at university, the one that makes me wince most is my absolute conviction that Wagamama was the best restaurant in London. "This is as good as it get folks!" I would tell people, slurping my way through a Chicken Laska.
After a decade chomping around the capital, I like to think I have a bit more perspective. Though definitively not the best restaurant in this or any other city, old Wags is alright. Not'this-pork-stock-is-so-cloudy-with-fat-I'm-going-to-lose-my-mind' good. And, admittedly I can trill off bazillions of better options for noodles quicker than you can say Tonkotsu, but for people who don't live in capital cities or Japan or aren't massive snobs when it comes to eating – there are far worse ways to fill up for a tenner.
Naamyaa Café, a relatively new (it opened at the Islington end of St John Street at the beginning of this year) Bangkok Café, is by Wagamama fonder Alan Yau. This fact was somewhat irksome on our visit as we spent the whole evening looking for signs of it.
First up, the design job by David Archer, who has also designed a fair few of Alan Yau's Thai chain Busba. The colossal space is lovely (we particularly liked the wall of gold budda icons sitting atop clay bricks) but has roll out written all over its clean lines, brightly coloured banquettes, vast stretches of wood and lattice screens.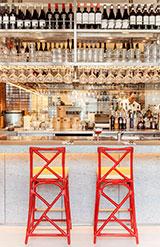 The menu, which aims to conjure'post modern Bangkok in an eclectic mix of all day dining', offers an almost bamboozling choice of traditional Thai classics with a crowd pleasing addition of salads, burgers and sandwiches. Leading the classics are the namesake Naamyaa dishes (a term commonly used to refer to sauces cooked in terracotta pots and served with kanon jim noodles) with'small plates','rice plates' and'noodle' thrown in for good measure. 
We chose a path of convention, which largely paid off. Changmama's fried turnip cake was a comforting heap of candied flesh and hot blasts of fiery chilli. Jasmine tea smoked ribs, though teeth-jinglingly sweet, were cooked well enough to render the sticky meat's resistance to our greedy teeth minimal.
Mains of sea bass steeped in a ginger-laced, coconut broth scattered with spring onions and coriander; and soft, minced beef rich with heat and Thai basil were good. The only real dud was a Pad Thai; a dry tussle of over-cooked glass noodles, spice and head-on prawns that looked the part but tasted of nothing.
If history, as they tell us, doth repeat itself, I'm sure there's a student hanging around the mean streets of Islington telling everyone that Naamyaa Café is the best restaurant in London. It isn't. But, like Alan Yau's other highly successful chains, it offers perfectly passable (if somewhat sanitized) versions of Asian cuisine at good prices in likeable environments. And I, for one, am okay with that.