Rene Redzepi probably needs no introduction. One of the world's most critically acclaimed chefs, he worked at elBulli and The French Laundry before setting up his current venture, the two Michelin star Noma, in Copenhagen. Here he redefined and pushed the boundaries of Nordic cooking, leading to his spectacular success and skyrocketing him to international chef stardom.
Redzepi's new book A Work in Progress, at once a journal, recipe book and collection of photographs, gives the reader a glimpse into the fascinating world of ultra high-end dining. The journal is a collection of his thoughts on running Noma, and the challenges of raising the creative bar even higher in what is already one of the world's most creative gastronomic enterprises.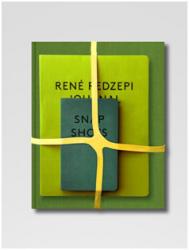 To mark the launch of the book, Redzepi will be speaking in London on Sunday 10 November, followed by a Q&A and book signing. Tickets cost £25 without a copy, and £39.95 including one.
Read our review of Noma.
Sunday 10 November 2pm – 4pm
Almeida Theatre, Islington