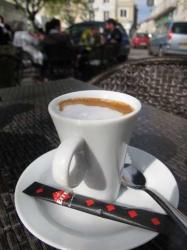 There are plenty of restaurants in London where you can go and pay a lot of money and have a good meal. But everyone knows that high prices don't always equate to a great night out. Sometimes fine dining is just too much like hard work and can impede on a good time. I think a good bistro is one of those places where you go and you just know you'll have a good meal, pay a reasonable price and feel comfortable to sit and talk and laugh over a meal and a few glasses of wine.
The French invented dining out and, as far as I'm concerned, they still hold the torch for destination dining. A good bistro somehow makes the conversation flow. Perhaps it's the wine one feels compelled to drink when in a French establishment, but I doubt it. Perhaps it's the unpretentious comfort food, but I don't think so. Whether it's the décor, the cool staff or inimitable Gallic charm you know it when you find it.
So of course you want to know where to find these gems of mirth and merriment. They're not always in the centre of London or the coolest parts of town, but they are always worth seeking out.
This is our Top 5 Bistros in London right here, where the steak and chips are always good, the host is the heart and soul of the room and a good time is always guaranteed.
Le Pot Lyonnais – Queenstown Rd, Battersea
I've frequented Le Pot Lyonnais more than any other restaurant in the last year. With a continental, homely atmosphere, you feel welcome from the start. The food is consistently great and the prices are fair. The menu is varied and yet authentic, homely and yet sophisticated. There is love in this place and you can feel it. It feels like coming home when step through the doors.
The foie gras is unforgettable and on steak night (Mon-Thurs), you can grab one of the best steak and chips in London for under £10.
Galvin Bistrot de Luxe – Baker St, London
The original of the Galvin empire, Bistrot de Luxe has, as Nick put it in his review back in 2010, 'the kind of atmosphere that makes you want to linger for hours.' There's no better way really to explain the lure of a great bistro.
Of course the food has to be good, and consistently so, and Bistrot de Luxe bears no exception here. The simple, classic menu is executed with typical French flair and respect for quality ingredients. While there might not be any of the typical Frenchified pictures on the wall, this place oozes enough Gallic charm without relying on semantics.
Bistro Aix – Crouch End, London
As with all the others on this list, Bistro Aix excels at achieving that fine balance of an unobtrusive and welcoming atmosphere. Chef Lynne Marie Sanders trained under Alain Ducasse and believes that good food should speak for itself without too much manipulation in the kitchen or on the plate. The staff are discrete and efficient and the menu is extensive in the best kind of way.
Chez Manny – Battersea High St, Battersea
Another Battersea gem and another brotherly enterprise, Chez Manny is a local haunt that's probably worth a bus fare for those not lucky enough to live near by. Chez Manny is run by brothers Manny and Guillaume whose personality is as responsible for their success as the food.
Guillaume's simple menu contains everything you want from a bistro, including foie gras, charcuteries and baked Camembert and always fresh and beautifully cooked. Manny's spark and warmth makes you feel like an old friend every time you visit.
Tucked away from the crowd, Chez Manny is well loved, well priced and a shining example of a friendly neighbourhood bistro.
Bar du Marche – Berwick St, London
Unpretentious and inviting, Bar du Marche is a refreshing burst of no-nonsense, honest-to-goodness in the heart of Soho. While Bar du Marche may not be styled to the eyeballs, the uncontrived and cosy atmosphere is part of the appeal. It feels like you've stepped over the border and into a neighbourhood favourite.
The menu is simple and always changing, but consistently fresh, flavoursome and unswervingly French. No flounce or over-attentive waiters, just good food in a warm and friendly atmosphere.