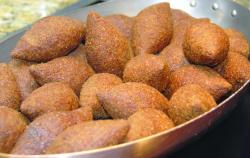 Executive Chef Maurice Fitzgerald of the Jumeirah Beach Hotel & Al Khayal in Dubai tells us how to make fried Kibbeh. British soldiers in the Middle East during the Second World War used to call kibbeh "Syrian torpedoes" but you'll find these will sink any appetite!
Ingredients
180g Top side of Beef (minced)
250g Brown Burgol (cracked wheat)
400g Minced lamb
10g Mint leaves
250g Red onion, chopped
40g Fried pine nuts
5g of each
(white pepper, Arabic spices, cinnamon powder & cumin)
10g Salt
40g Corn oil
40g Tomato and lemon slices
20g Lolo rossa lettuce
80g Finely chopped romaine lettuce
Method
Dough preparation
Wash the burgol (cracked wheat) with cold water and then strain. Once done, add all the minced lamb, 100g of chopped onion, mint leaves, white pepper, salt, cinnamon powder and cumin.
Mix all together thoroughly in a mincer using the coarse cutter setting with some ice cubes.
Keep in the fridge whilst preparing the rest of the food.
Filling preparation
Sauté the rest of the onion with the oil until it turns a golden brown. Then add the already prepared minced lamb and mix until cooked.
Once that's sizzling, add in the fried pine nuts, salt and the rest of the spices.
Mix all together until cooked through and then strain.
Finishing touches
Take 35g of the dough and open it up with your finger, add some of the meat filling, and then close it again. Repeat this process with the remaining dough.
Deep fry the mixture and dough, and then serve on a platter of chopped lettuce. Don't forget to garnish with tomato and lemon slices too.