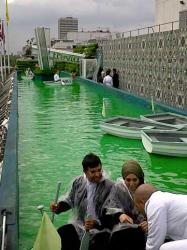 If you want to make a big splash with a product launch, then Bompas & Parr seem to be the boys to turn to. From humble beginnings making fancy jellies, they have moved to creating total spectaculars for clients of all kinds
Which is why we found ourselves waiting for a special lift in Selfridges to take us up to the roof, a space not used for public events since the Second World War. Everything was art-directed to an inch of its life; the lift was lined with old paperbacks and the glamorous girl attendants dressed in uniforms by Tour de Force.
With the downpours holding off for five minutes we admired the lake that had been created, the seating areas furnished with strawberries and the cocktail bar hosted by the Experimental Cocktail Club.
And all for a sugar substitute albeit a remarkable one. Truvia is that Holy Grail, a zero calorie sugar that's made from a plant discovered in Argentina called a Stevia. Plenty were around to try and the sweetness of the leaves is remarkable, albeit with a bit of nettle thrown in.
Of course the leaves are refined to remove the unwanted flavours leaving a free-flowing white grain that looks just like sugar and even has the crunch,
The cocktails had a real kick and the boat trip was taken only by the brave or the inebriated, but as an event it was something so unusual as to bring out the most jaded of journos who giggled happily as their boats rocked.
Truvia will be available in the shops later in this year and the event is open to the public for a few more days. Check out the Selfridges page.