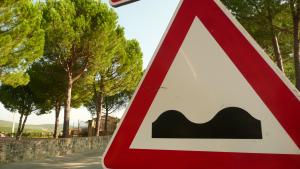 'I wanted the ceiling to be vaulted, but my sister, Agnese – the architect – insisted it should be level,' said Felippo Mazzei of Fonterutoli, whose ancestor recorded the name 'Chianti' over 600-years ago. Lined in quartz-specked concrete and propped by a grid of needle-like pillars, the stark, ultra-modern, gravity-fed vault resembled a Mayfair car-park. Only here barrels from Limousin replaced limousines from Germany. Agnese, who has also sculpted wineries for Brancaia, Antinori and the barrel room for Sassacaia 'interpreted the project structurally and economically, never wanting a 'Disney' cellar.'
Possibly without intending to, Mazzei had captured Tuscany's zeitgeist. Emanating from Florence, home of the Renaissance, and roughly triangular from the northern point of the Tyrrhenian Sea to the central Apennines, it is arguably the world's most romantically-sculpted wine region. However, whilst winemaking dates to the Etruscans, today's producers appear prepared to thoughtfully modernise.
In the solid company of Ben Smith of specialist importers, 'Enotria', 'Harpers Wine and Spirit' Editor, Richard Siddle and broadcaster Olly Smith, I had come to drink-in the wines of luminaries – Mazzei, Cecchi, Poliziano and Fattoria dei Barbi. I wondered how a land which survived 14 consecutive days of wartime bombing had, more recently, surmounted the enduring caricature of the wicker fiascho corset…
We met Felippo on the eve of the Sangiovese harvest – the thin-skinned, late-ripening grape which is the basis for Chianti, Brunello di Montalcino and Vino Nobile di Montepulciano. An economist by training, Felippo took time on his birthday to show us around. Set within the heart of Chianti Classico, this is the family's flagship winery, although like many forward-thinking producers, there are also holdings on the balmy Maremma coast, named after the brown 'Maremmano' horses once bred for the military. There, growing on particularly acidic soils, the bitter chocolate-tasting Morellino di Scansano is increasingly in vogue.
It was calming to take refuge from the last summer rays 15-metres underground. Breaking a modern partition, Agnese carved 'windows' onto sheer rock. Glistening with the weekend's rainfall – 22mm of an annual 600mm – these provide natural climate control. Whilst the deluge quenched the grapes, it also meant delays to harvest, which is 'a kind of roulette' according to Felippo. He quoted '95 as almost perilously drawn-out, which turned-out to be 'the vintage of the decade.'
Amidst a gentle hum upstairs, 120 separately-vinified fermenters catalogued five different terroirs. These parcels of land are naturally-farmed, although not according to 'the cult' of biodynamism. Whilst climate change 'is hard to quantify', Felippo assures, 'we're all more careful with our farming now. We've learnt how clay absorbs pesticides, which will still be there 25-years on. We have our name on the bottle and our grapes in the wine – we won't take risks with pesticides.'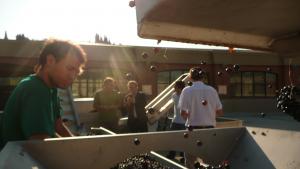 A tasting over dinner of still sizzling strips of beef tagliata at Felippo's Osteria, festooned with hunting trophies, revealed in crystal the clear differences the new winery has made. Following the inaugural '06 vintage, Fonterutoli's wines appeared leavened, crisper – direct. Bearing a reproduction of the writ recording Chianti's naming by 'Ser Lapo', the '06 Chianti Classico (90p/c Sangiovese/Merlot) had an alluring perfume of violets and liquorice, leaving almost potassium permanganate traces on the glass. In contrast, the '05 was dense and broody, with a bitter-jag of acidity.
Aside from nuance of vintage, the architecture of the wine mirrored that of the winery, which allows gentler handling of the 'easily bruised' Sangiovese followed by the softening influence of a gentle stream of air through the wine known as 'micro-oxygenation'.
…seeing the harvest and tasting the juice from open top fermenters with contents like summer pudding and a giddy audience of fruit flies had been undeniably romantic…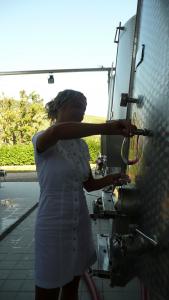 However the move to a more accessible style can have side effects. According to the improbably glamorous enologist, Miria Cecchi of the nearby eponymous winery, the less acidic Sangiovese of the '90's encouraged rogue dipsomaniac yeast, 'brettanomyces' to thrive. Cecchi's solution lay within the parquet floor. 'We got rid of the affected barrels and here they are.' Glinting tartaric crystals bore testament.
Asbo for Crowing Cockerel?
After a night in Fonterutoli's converted hunting lodge broken by the crow of a cockerel – a noisy nod to the Gallo Nero symbol of the forward-thinking protectionist Chianti Classico Consortium of 1924, we found ourselves overlooking a ploughed field. Cecchi's estate manager, Giuseppe Mezzedemi announced this 'sea of mud', so-called because of the water-table below, as the 'the ninth vineyard'.
Further uphill, in the shade of 1,001 olive trees representing the year Cecchi's Villa Cerna mansion was built, we tasted two bunches of grapes, laid-out on a table. Although both Sangiovese, one 'clone' had small, tightly clustered, bitter berries whilst the others were larger, sparse and richer. The superior strain was isolated in 2003 by research scientists gifted one hectare of land – part of a 15-year project endorsed by the ministry of agriculture. Considering viticulture started here in 1083, one could argue that this represents more progress in six years than almost 1,000.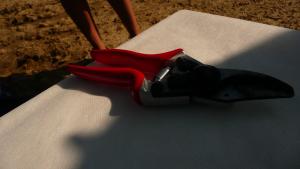 The show continued in the winery. After a tour of a cellar adorned by da Vinci-inspired engraved steel panels, we sat on paper-white, Mies van der Rowe chairs where we were bathed in mission statements and jargon. I yearned for the wines to live-up to the spiel.
Unfortunately Miria's wines were inaccessible – too slim, with mean profiles. To my astonishment, this even included the top 'Coevo', a Super-Tuscan (made to a recipe including Italian-sewn, French varieties) 'made with no rules' and 'different every year'. At opposite ends of a glass-topped table, brothers Cesare and Andrea clearly hoped this could elevate their image as a supplier of simple supermarket wines. Sadly, neither its immense (and immensely ugly) bespoke vial, nor accompanying film redeemed it.
After lunch of slow-cooked, contemporary canapés, we ventured south-west to a producer with just two generations of winemaking pedigree. Looking like a more outdoorsy 'Kojak', Federico Carletti, who trained as an agricultural engineer, runs Poliziano alongside duties as president of the Consorzio of Vino Nobile di Montepulciano and regular hunting escapades. He recalls, 'when my father, Dino founded the estate in 1961, there was only a barn with a white Chianina – the cow famous for steak Florentine.'
Designer Footwear, Ancient Soils
As we stood amongst ripe Prugnolo Gentile, a strain of Sangiovese particular to Montepulciano (as opposed to Montepulciano d'Abruzzo), believed to date from 700AD, I became mesmerised by Federico's translator's Gucci loafers, which had disturbed an ants' nest. Qualifying his passion for producing long-lived wines which often blend French varieties, Federico described his vinous epiphany. 'As younger men, enologist Maurizio Castelli and I visited Grand Cru St. Émilion producer, Château Figeac in '83. Blind-tasting, we mistook a '70 as just five months-old. That evening changed the way I made wine – now they're built to last.' On French varieties, he spoke forthrightly. 'There is a trend for journalists to look for 'true' wines and Super-Tuscans have become true wines, although some journalists don't understand that.'
Over a quarter of a century on at 50, Federico says he will never change his philosophy – 'my blends have become brands.' However, he is clearly interested in experimentation, most recently planting Niellucio, a relative of Sangiovese thriving on Corsica, in the Maremma. Unfortunately, 'whilst the leaves and grapes looked perfect, the wine is bitter.'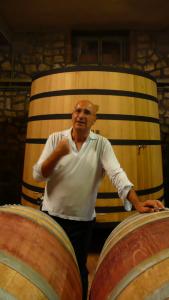 In the newer part of the winery, added to, rather than replacing the original, to 'show 45-years of life', Federico handed us tank samples of vivid, animal, seven-day old Syrah. Grown in Cortona, the setting for film, 'Under the Tuscan Sun', Federico hinted that Rhône winemaker and former Decanter 'Man of the Year', Marcel Guigal was an influence. 'My wines are big wines, from big hands.'
Because he is jaded by Michelin-starred temples to gastronomy, we ate the sensuous local dish of black truffle-crusted steak within the walls of Montepulciano – a tribute, perhaps to the Chianina of Azienda Poliziano's origins. Outside our window, one of the town's most exciting festivals occurs on the last Sunday of August – the barrel-rolling race to the top of the town. 'I'm too old to do that now, although I heard that the best time ever was nine minutes', said Federico. Arguably the most dedicated of gastronomes, Brillat-Savarin once wrote: 'the truffle makes women more tender and men more amiable' – but no more athletic. After the extravagant supper, I doubted my ability to make it up the hill, even without a barrel to push.
Chianti Classicism
Westwards to Montalcino, things become more slick. An archery tournament replaces barrel-rolling. Standing in Fattoria dei Barbi's curiously domesticated cellars, featuring silk flowers, an old pool table and family pictures, export manager, Raffaella Guidi Federzoni lamented the recent new-wave of prospectors. 'Some of the people who came from the mid-'90's have a 'here was jungle' mentality.' Whilst I understood such sentiments, I couldn't help but think back to Federico, who might also be considered a modern intrusion in Montepulciano.
Meaning 'small dove', the 'Colombino' family who own Barbi have experienced a lengthy wine-making timeline, interrupted only by 14th century banker, Giovanni, canonised for giving-up his fortune during a 'mid-life crisis'. Rafaella mentioned, 'it took two generations to build land back up!'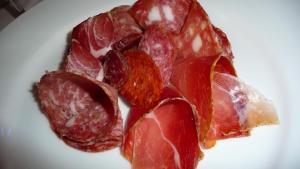 Barbi has strong ties with iconic producer, Biondi-Santi, which takes the name of Clemente Santi, a local farmer who isolated the prized Grosso clone in the 18th century. Today, 'Boba' Santi is the cousin of Francesca Colombino. Of bringing the past into the present, Raffaella said, 'until the '60's, Brunello was a wine known only to an elite and mostly sold in demijohns. Barbi worked with Biondi to bottle it and sell directly to clients.' Inquisitiveness is clearly in the genes of the Colombino family. Apart from conducting two decades of research into vineyard density, Stefano Cinelli Colombino is respected for his recent work in creating an 'electronic nose' for wine analysis.
Over lunch of estate reared cured pig and wild boar charcuterie from livestock 'allowed to rest over the weekend before slaughter', Raffaella proved the only producer to speak severely on climate change. 'Stefano's birthday falls on 26th October, which used to signal the harvest. Now it occurs a full month before.' Regardless of coming from a heat-wave, the '03 Riserva appeared to have resisted heat's ravages, thankfully. Whilst barely in puberty, the young, contoured, iron fist in a velvet glove gave me goose-bumps.
Message in the Tannic Dregs?
Over three days roaming this intriguing, independent-minded region (which is not, incidentally, a Berlusconi stronghold) I had drunk-in the philosophies of four very different producers. Seeing the harvest and tasting the juice from open top fermenters with contents like summer pudding and a giddy audience of fruit flies had been undeniably romantic. However producers still need to work to sell their wines. Unlike what might be considered 'cash-cow' first growth Bordeaux estates, even the cream of Tuscan wine is not yet a favourite of markets like Asia. Thoughtful modernisation whilst living with the best of the past is, it seems the key to clean, bright and complex wines. And aside from climate change there is another concern, as Federico Carletti expressed. 'Today's younger generation are more interested in I-Pods than anything Bacchus can produce.'
Modernity, it seems, might have a drawback…