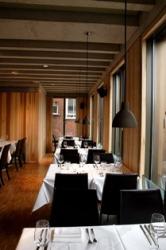 Just a short hop from Camden High Street, in Delancey Street, this new Osteria and Restaurant launched on the 2nd December to the sounds of lively band music while invited guests quaffed wines or beers and nibbled on interesting canapés. It was a fun evening that did justice to this new eatery, which occupies the site of the old Cafe Delancey and showcased its new addition, The Forge, a music and arts space to the rear of the ground floor Osteria.
Apart from joining up the old cafe space with a building at the rear, which was a blacksmiths workshop, to create 'The Forge' (hence the name) the new owners have done a great job in developing a cool, contemporary, comfortable space in which their customers can relax and enjoy a meal at practically any time of the day. Features include a living wall planted with ferns and creepers, that stretches to the full height of an atrium, which has been created to the rear of the building, other walls including the restaurant on the first floor are covered with a warm light wood cladding that looks very attractive. The decor has been kept simple throughout the building which gives the feeling of cool clean elegance. The restaurant on the first floor, in particular, has a quite calmness about it.
During the launch party waiting staff circulated with trays full of canapés. These included: golf ball sized arancini with beef, pea and rice filling, little filo parcels filled with cheese and spring onion, small filo sacks filled with ham and cheese, sweetbread on crostini, proscuito wrapped grissini sticks, interesting cheeses and more. These excellent nibbles, all full flavoured little mouthfuls, were representative of the Italian/Sicilian cuisine that both the osteria downstairs and the restaurant upstairs will feature on their menus.
Caponata is a family owned business that brings together the two distinct interests of it owning partners – food and music – the downstairs osteria area has a capacity 100 for live music events and a normal seating capacity of 70 covers, the more formal restaurant has a normal capacity of 50 covers.
If Caponata's launch party is anything to go by the quality and variety of dishes they serve should be excellent, take a look at their web site, the link to which is set out below, to see for yourself what they have to offer.
Caponata, 3-7 Delancey Street, Camden, London, NW1 7NL Tel: 020 7387 5959 www.caponatacamden.co.uk