It's been a while since I worked in Covent Garden and the old place has changed a fair bit; the old buildings have been turned into fancy offices and flats and the Donmar Warehouse has disappeared completely. Back in 1976 the area was so grubby we'd see punk bands play most nights. Now it's 'gone all polenta', as a mate of mine would say.
The Covent Garden Market Place, Grocer, Deli, Cafe is so new I can still smell wood shavings from the fit out and polenta is definitely for sale, along with a whole host of foody things you lust after, while not always entirely sure what they are or what they do
These include Bossi & Turchi wild boar Tuscan ragu, Arabica Food and Spice Co's pomegranate molasses and A l'Olivier fig vinegar. But there are plenty of things that are easy to identify – such as Machiavelli (Italian speciality meats) delivered twice a week from Italy, Brindisa Spanish goods, Fresh Olive Company olives, Tracklement chutneys, preserves and condiments, Bay Tree Food Company pantry essentials, thinly sliced smoked salmon from Mike's Smokehouse in Devon, crusty breads from London's Artisan Bakery,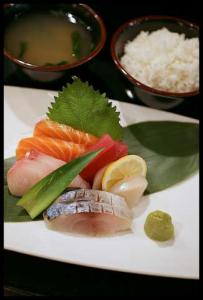 Greek specialities and cheeses from Odysea and great French cheeses, as well as fresh fruit and vegetables from the Nine Elms market. It's a bit of a foodie wonderland as you potter about beneath exposed steel beams and around pillars and exposed brickwork.
It's not just a fancy shop though 'The idea behind Covent Garden Market Place is to have many different types of food that can be enjoyed in an informal setting. Ideal for the quick lunch or pre theatre snack, and also a great meeting place for morning coffee. The best thing is a group of friends can come in and each eat something different, yet share a communal table to enjoy their choice", says Creative Consultant Ofer Zilkha.
The cafe area serves sushi downstairs while upstairs there are Thai curries and fresh salads made from ingredients such as Bocconcini mozzarella. There are warming seasonal soups, sandwiches made using artisan baguettes, and a variety of mezze dishes that can be eaten in or taken away. There are even award winning hot salt beef sandwiches and chicken soup by Harry Morgan.
We stopped for some sushi prepared by the chef hired to head up the team with 7 years at Nobu, and another 3 years at Zuma under her belt. It was pretty good, as might be expected with that kind of CV. I can't claim to be an expert on Japanese food, who can, but the presentation was first class and the fish as fresh as it absolutely needs to be. I worry about its location, though. Being downstairs its light is being hid under a bushel and sushi and sashimi is such a visual, as well as a taste feast, it's shame to be secreted away and possibly not get the customers it deserves.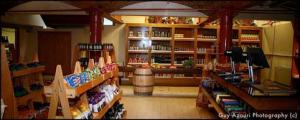 The sushi and sashimi are however also available upstairs for take away, freshly packed and prepared and they certainly knock spots off the stuff you can buy in nearby supermarkets and high street chains. The Thai grub can be sampled in little thimblefuls, as can some of the salads, and clearly a lot of effort has gone in, which is reflected in the price. Quality has never been cheap.
If you work in the area or even live there (hello oligarch) then this is the place to shop and to save time schlepping over to Selfridges for your fix of fine food items. As a lunchtime place to buy take-out food or to eat in, it offers a great alternative the usual suspects and, if you're in the area in the evening, it's a good spot for a fast bite.