Crowne Plaza Hotel London – The City 19 New Bridge Street www.chinesecricketclub.com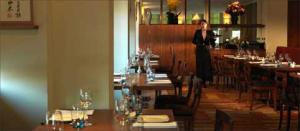 'It's miles away, the toilet," I say to Fay Maschler, my customary wit and conversational skills sparkling through. We are on a deserted landing of the newly launched Chinese Cricket Club and the Ladies are four flights of stairs from the food. The manager has told me, nervously, that this was Ms Maschler's second visit that week to the Sichuan and dim sum restaurant. Perhaps she was still searching for the loo.
The Chinese Cricket Club is apparently named after the new Chinese National Cricket team who this year played its first international match. Ni hau? I am no sports afficionado but is this a good omen for a fledgling venture? What will stand it in good stead is that it's located within the Crowne Plaza in London which already houses Giorgio Locatelli's Refettorio restaurant. What might hinder it is that it never entirely escapes its hotel demeanour, attached as it is to the lobby. Still, CCC's head chef Brendan Speed has already launched Zuma Istanbul with grand designs for this ambitious destination Chinese.
Weekday lunchtimes, I'm assured, are its busiest times when corporate punters throng the minimalist red, teak and ecru dining room, replete with Chinese calligraphy and bamboo. But it was quiet this Friday evening although the waiters assured us they were rushed off their feet – us demanding food writers, perhaps.
We started with wine, a Picpoul de Pinet, Beauvignac, Languedoc 2008 whose citrus and oily palate later proved perfect to slice through the umami and chilli. Apparently black cod dim sum is a rarity in London restaurants, our very helpful waiter told us so we ordered black cod gow gee first and very good it was too.
The hot and numbing chicken was fascinating, we thought, in its clashing textures as well as name. Basted in Sichuan pepper and rested in a pool of chilli oil, its 'hot and numbing" spice was cooled by the cold temperature of the meat. The soft shell crab in chilli mayonnaise had been dissected on a bed of lettuce, all curly, frills and frizz. Dousing such a delicacy in mayonnaise may sound sacrilegious but the creaminess softened the chilli crunch and did work.
The silken tofu with broad bean paste, however, was far too salty and tasted more like soybeans to me although K, my companion, loved this. He also loved the steamed duck egg custard bun which was sweet and chalky-textured, very good for pudding. I had somehow misread the menu and assumed I was getting shredded duck with egg custard so was far too disappointed to fully appreciate this dish. Our Sichuan pepper with chilli squid was nice, nothing special, as was our twice-cooked pork. The Sichuan aubergine however (OK, we'd gone overboard on the theme) was lovely, with crispy seams and a marmalade texture that was naughtily moreish.
The kitchen was closing at 10.30pm when we tried to order desert so we gave that a miss. We'd had our fill already. Anyway, it was time to speed home and use a nearer loo.