It's always good to get a bit of spice into your belly as it starts getting cold, and Unearthed's new range of snacks and sharing bites are a great way to go.
Unearthed has been bringing food from all over the world to British consumers since 2008, focusing on good quality products, big flavours and easy-to-prepare formats. They now sell through Waitrose and delivery giants Abel & Cole.
I served a few items from the new range to some hungry friends before dinner, and they went down a treat. Galician mussels in tomato sauce were delicious; huge and tender – nothing worse than the disappointment of a tiny, tough mussel after you've been wooed with lovely garlicky aromas, but these were a delight.  The sauce was very tomato-y, rich and well balanced, and perfect soaked up with some ciabatta.
Squid-less rings were slightly disconcerting – they look exactly like squid, but are very soft with a vague fishy flavour. I tried them hot and cold, and whilst not unpleasant at all, if given the choice again I'd go for the real McCoy.
Although I wish it wasn't the case, I'm not personally a fan of olives. However these were huge and shiny, covered in a spicy chilli puree with vivid pieces of red pepper – they looked lovely, and were enthusiastically hoovered up by my olive-loving guests.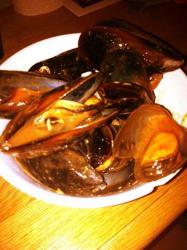 The quinoa houmous was delicious on hot pitta strips – a nice change from its ubiquitous chickpea cousin and perfectly complemented by a blob of tapenade in the middle. 16-month prosciutto crudo was salty and moist, and would've been lovely with something creamy like mozzarella or avocado.  
Overall the range is great – everything looks and smells delicious, and would certainly give a good impression if you were going to serve it up to guests, either as a big tapas-type meal or as a posh selection of nibbles. Certainly beats crisps and peanuts.
Unearthed's Autumn range is available from Waitrose and Ocado priced at 2 items for £5 for a limited period.