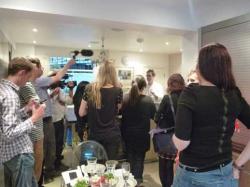 Aggie Mackenzie is sitting two chairs away from me in the basement kitchen/diner of the @thelondonfoodieshouse in Shoreditch, the posher bit I hasten to add not the bit where the beardies all live. If the co-star of How Clean is Your House is checking under the table edge for dust or inspecting her cutlery she's doing it very subtly.
In fact she'd be wasting her time; the place sparkles and the kitchen area alone is envy-inducing to a serious degree. Up at the large work area, Masterchef 2011 winner Tim Anderson is turning out food based on the myriad choices offered by Unearthed and it's all good.
His demo of how to make goat's milk cheese marshmallows on biltong twigs went down well, if the number of people holding mobile phone cameras out toward him was any indication. It looked like they were taking geiger counter readings of his radioactivity.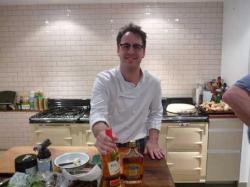 The goat's cheese was Unearthed's Goats Milk Balls with Mint, and one can see why they had to be a bit careful naming that one. Nibbly and nice on their own they work well in recipes too. This one involves a bit of flambeing, always a laugh, and the taste is powerfully good.
The Unearthed range is perfect for gatherings, all you mostly need to do is unwrap and serve. BIg green Kalamata olives flavoured with orange, an excellent pork rillete pate, mixed olives, sliced meats were all served up in profusion before Tim's big dish, Finocchi on a salami wrapped around a loin of lamb served with Bombay potatoes and a very zingy fennel and orange salad.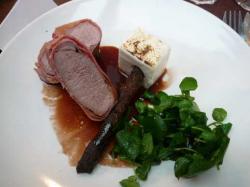 A good mix of food journalists, bloggers and civilians made it a noisy but fun evening and for only £20 quite a bargain too. Plenty of sherry and wine helped and we all cheerfully made short work of French Pear and almond tart with saffron ice cream before weaving back out into a rather balmy night.
Unearthed have the right idea about food; profusion, simplicity and quality and they really do have their radar set on finding more and more good things from places as diverse as Greece, Italy, Iberia, China, New Zealand, Ecuador and South Africa.
Their new barbeque range of sausages – Tuscan Cooking Sausages, Toulouse Cooking Sausage, Spanish Smoked Cooking Chorizo, Spanish Chistorra Cooking Chorizo, and German Bratwurst are all available 2 for £5 at Waitrose and solve the boring burgers BBQ issue. I've tried the curl of Chorizo and it was lush, blistering up nicely on the coals and being a circle it didn't try and fall through the grill.
The Unearthed range gets better and while I find some things don't work, the mozzarella and tomato platter for example, there are far more hits than misses and the people behind it are genuine and committed to good supplier relationships. Their conscience is as clean as Aggie's house.