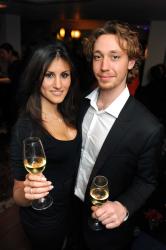 Although we drink less of it during a recession, Champagne remains the first choice for many of us with celebration in mind. And, while Champagne sales in the UK were down by almost one million bottles last year, this year, with its scope for jubilation, could stop this cautious trend. Certainly, I drank a lot of it at a Diamond Jubilee party beside the Thames; I am preparing to break open a bottle during Wimbledon (can Andy Murray do a Virginia Wade and win the championships in a jubilee year?); and hope for any excuse during the Olympics.
The question of what to eat with it has always been easy to answer: smoked salmon. But it is not as simple a pairing as we think. It depends on the Champagne. According to Yann Mabille, the very French owner of the Flûte Bar & Lounge (that's him on the right, above), most Champagnes are too harsh, too astringent, to allow the smoked salmon's subtlety to shine; it needs either Taittinger or … a mellow rosé Champagne.
We tried three:
Drappier Rosé: apart from being made from grapes grown a short distance from the burial place of Charles de Gaulle (who used to drink Maison Drappier Champagnes), this is in the Elysée Palace cellars and was undoubtedly drunk by Nicholas Sarkozy and will be, now, by François Hollande. Very dry but with a sweet edge, it has a long finish thanks to being made only from pinot noir grapes.
Lenoble Rosé Vintage 2006: Champagne does not age well so a vintage Champagne is unusual; this one, a grand cru, is of the highest quality but very limited availability; the year signifies that all the grapes that went into it were harvested in 2006. Rich and elegant, with no hint of sweetness, this is made from a blend of 92 per cent chardonnay grand cru and eight per cent pinot noir premier cru. Noble indeed.
Billecart-Salmon Rosé: as Yann put it, there's 'not much to say about" this famous brand, 'it's just better; excellent; any time of the day it's perfect" which is the only excuse some need. From a medium sized Champagne house, it is still family-owned and now run by the family's seventh generation. Light in the mouth but powerful, its blend is 40 per cent chardonnay, 40 per cent pinot noir and 20 per cent pinot meunier. Yann claims it will never cause a hangover.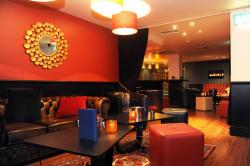 While eating smoked salmon blinis decorated with micro red amaranth leaves, curls of a mild smoked salmon, and slices of smoked salmon wraps, we learned facts about the blend of grapes in each bottle and how long they had matured, assessing their colour and appearance in relation to the grapes used, their bouquets, how the tiniest shift in sugar content can create dramatic changes in flavour and enjoyment, subtleties about the cellars, and what each one should be served with. Drappier Rosé, for example, goes well with strawberries, light summer meals and, surprisingly, rich gratins of salmon and smoked salmon. Lenoble Rosé Vintage 2006 can take bold flavours: cured ham, goats cheese, mangoes. Billecart-Salmon Rosé, which has virtually no sweetness, is excellent with scallops.
Let's be honest, masterclasses are much less about learning than an excuse to do something different and entertaining with friends or partners. They add an extra dimension to the day and I have yet to attend one that wasn't good value for money and this, at £65 a head, sent us home indulged – and with some rather useful dinner party chat:
Bubbles demonstrate quality: Drink with friends smugly knowing that you can now judge their generosity of wallet. Look for a very light smooth froth of a foam, letting it develop in your mouth before you swallow; the lighter and smoother the foam, the better the Champagne. It is the bubbles that contain the flavour which is why finishing off a bottle of Champagne the next day, when it's flat, brings no pleasure. Be strong and gluggle it down the plughole.
Grand cru: The term signifies that it is of the highest quality – and from grapes grown by the producer. So how is that different? Most big Champagne houses buy most of their grapes from other growers; Moet & Chandon, for example, grows only five per cent of its own grapes. That does not necessarily mean the Champagne is no good but, as Yann explained, if you own them, you know them; the quality is bound to be higher. So there is a reason to be snobby about Champagne – if it has the right labels.
Low-production, small Champagne houses are better value: You will usually get a much better Champagne from a small producer as its costs will have gone into making the wine, not marketing the brand. Dare to pick up a bottle from an unknown house.
Most Champagne houses add a little red wine to Champagne: That's a bit of a surprise, I know, but it's a fact; 95 per cent of Champagne producers add the skins of red grapes to Champagne during its production. It's always from pinot noir grapes which must have been grown in the Champagne region. It's a highly complex process – the skins are left in for between six and 24 hours, depending on the Champagne; too long and the Champagne will be unfit to drink and nothing can fix it; out it must go. The job of a chef de cave might be the best in the world – but it's not stress-free.
Pronunciation: In a country where hardly anyone can pronounce 'lingerie' (it's lan-zhri with a virtually silent 'n', not lon-jer-ray or even, as one well-known high street store said when it opened near me: linger-ry), how have you been saying Taittinger? Tat-in-jer or, as it should be, again with a virtually silent 'n', Tay-tanzhay? Go on, show off.
The atmosphere of the Flûte Bar & Lounge, which has branches in New York and Paris, was relaxed and unchallenging, conveying fun but safe haven not pick up joint. Those there that evening were well-dressed and classy, not bold and brassy, and a mix of ages from young to middle. Tutored tastings take place once a month, otherwise, drop in to try one of its 100 Champagnes and sparkling wines, including English Nyetimber which Yann praised – and this from a French Champagne expert. But, as he said early on, English people know more about Champagne than do French people. Which must be some sort of result.
4 Great Portland Street, London, W1W 8QJ