There are hearts and roses in every store from stationers to bakeries. London loves to celebrate the international day of love, the day you can be excused for random acts of romance. Restaurants across the city are preparing for their biggest night of the year where couples in love dine on aphrodisiac-inspired menus and put away glasses and glasses of bubbly.
Now we wouldn't be doing our job if we didn't bring you the best places to dine on this all-hallowed eve. So here it is lovers, cast your fluttering eyes on this list of romantical restaurant events in the month of February;
Love is in the air this Valentine's Day at Guoman's five-starThe Royal Horseguards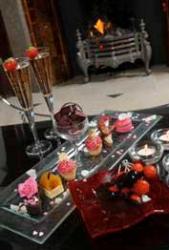 Spread the love this Valentine's Day by treating your special someone to a Valentine's Day Afternoon Tea at Guoman's historic five-star The Royal Horseguards, in London's Whitehall. A luxurious and aphrodisiacal menu has been created exclusively by the hotel's resident pastry chef Joanne Todd. The deliciously romantic afternoon tea menu is designed for two to share by the fireplace in the hotel's beautiful lounge, where your table will be decorated with hearts confetti, red rose and candles.
The menu includes heart shaped champagne truffles and a passion and pineapple jelly with banana cream that combines delicately flavored jelly wrapped in roasted pineapple. Your choice of tea or coffee is also served with dainty vanilla macaroons infused with real red roses, beautifully presented Love Heart candy cupcakes, Sugar Pie honeyed figs with almond biscotti and a fabulously wicked Gooey Dark Chocolate Cake with sugar rose icing. A highlight of the menu that just begs to be shared between two is the chocolate fondue with fresh strawberries for dipping.
The Valentine's Day Afternoon Tea for two will be available from the 10th until 19th February at Guoman's The Royal Horseguards priced at £32 per person and £42 per person with a glass of 'Laurent Perrier" champagne.
Kitchen Chemistry: A Valentine's Day Epicurean Adventure – The Stafford London, St James Place, London, www.kempinski.com

The Stafford London by Kempinski offers lovebirds a little help in the kitchen this year with an exclusive Valentine's Day Cookery Class, held in the kitchens of the hotel's new Lyttelton restaurant on Sunday, February 12, 2012. Led by Executive Chef Brendan Fyldes, it's an intimate experience for just eight participants, allowing for hands-on learning in a warm and engaging atmosphere.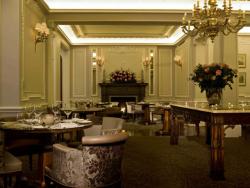 The class runs from 8:30 to 11:30 am, followed by canapés and a glass of Champagne in the Hotel's famous American Bar before luncheon at The Lyttelton, where Master Sommelier Gino Nardella will personally select the wine pairings. Afterwards, participants leave with a gift bag that includes a Kempinski cookery book, an apron adorned with The Lyttelton logo, homemade chutneys and biscuits, and a solid plan for a fabulous home-cooked Valentine's Day dinner à deux.
The class costs £220.00 per person including three-hour hands on cookery lesson, Champagne, canapés and lunch with wines at The Lyttelton, and gift bag. Advance registration is a must due to limited space.
Theo Randall at the Intercontinental – 1 Hamilton Place, Park Lane, London, www.theorandall.co.uk
'Love 2 Dine,' is a gourmet experience available to just four couples on Saturdays throughout February 2012, offering an interactive cookery masterclass with celebrated chef, Theo Randall. Couples will have a one-on-one introduction to the art of rustic Italian cooking, the importance of good ingredients, and the background to one of the worlds most passionate cuisines. They will then enjoy a special Valentines menu in the romantic setting of Theo Randall at the Intercontinental paired with a flight of wines selected by the restaurant sommelier, followed by a stay at the hotel in one of the Deluxe rooms. Priced at £699 per couple + VAT
Rotunda Bar & Restaurant -Kings Place, 90 York Way, www.rotundabarandrestaurant.co.uk
Rotunda are doing a 4 course menu with complimentary glass of Prosecco on arrival for £48.50. Experience an intimate evening of great food and live, tableside opera courtesy of Portuguese tenor Alberto So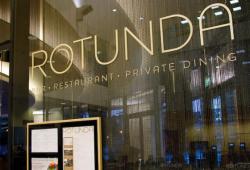 usa. Bookings from 6.30pm
Tom's Kitchen – 27 Cale Street, Chelsea, London, www.tomskitchen.co.uk
The very passionate Tom Aikens is offering a delightful Valentines Day evening at Tom's Kitchen Chelsea. For £60 per person, you'll get three courses, appetizer, coffee & petit fours.
Rétro Bistrot –114-116 High Street, Teddington, London, www.retrobistrot.co.uk
For those looking for a venue outside central London, award winning Rétro Bistrot is an elegant French restaurant offering a seasonal a la carte menu in an intimate setting. Rétro Bistrot has established itself as one of West London's premier French restaurants, updating 'cuisine bourgeoise' for the 21st century. Approx £30 excluding alcohol.