A thoroughly patriotic pastry for St. David's Day, Andrew Nutter's scrumptiously sticky tart puts a new spin on the classic Welsh rarebit.
Serves 4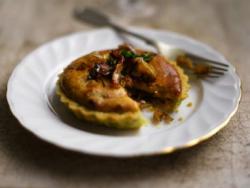 Preparation time: 45 minutes
Cooking time: 8 minutes
Ingredients:
for the pastry:
200g plain flour
100g butter, cubed and chilled
Pinch curry powder
Pinch poppy seeds
Water
for the Welsh Rarebit:
200g Lancashire cheese
100g stilton
30ml milk
25g plain flour
25g breadcrumbs
3 egg yolks
2 tbsp dijon mustard
1 tbsp Worcestershire sauce
for the sticky shallot and bacon mix:
3 tbsp olive oil
6 rashers streaky bacon, cut into thin strips
10 shallots, chopped finely
1 clove garlic, chopped finely
2 tbsp honey
2 handfuls of fresh spinach, shredded
to finish:
Mixed salad leaves
Simple vinaigrette
Method:
For the pastry tarts, place the flour in a bowl and rub in the butter until it resembles breadcrumbs. Add the curry powder and poppy seeds then enough water for it to come together to form a firm dough. Leave to rest in the fridge for 10 minutes.
Dust a work surface with some plain flour then roll the pastry out thinly then divide between 4 individual tart cases. Prick with a fork then bake blind for 8 minutes until golden and crisp.
For the rarebit, place the Lancashire cheese, stilton and milk into a casserole pan and heat slowly until the cheese melts.
Add the flour and breadcrumbs and cook out for 1 minute until the cheese thickens and comes away from the edge of the pan.
Remove from the heat, cool slightly then place in a food processor. Add the egg yolks, mustard and Worcestershire sauce and blend until smooth.
For the sticky shallot filling, heat the olive oil and fry the bacon until golden, add the chopped shallots, garlic and honey and cook on a low heat for 5 minutes. Stir in the shredded spinach and season to taste.
When ready to serve divide the shallot mixture into the 4 tartlet cases, reserving some for garnish, pour the rarebit over the top of the filling, ensuring it covers the whole tart. Bake in a hot oven for 5 minutes. Finish off under a hot grill until glazed and golden.
Serve with some mixed salad leaves and a simple vinaigrette.
For more recipes visit www.UKshallot.com