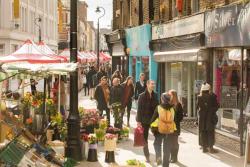 Lower Marsh is the rather grim street at the side of Waterloo station with its unloved charity shops, tatty vintage and sex stores.  A couple of greasy spoons complete the picture, although I do confess a liking for the homely Camel & Artichoke pub, which dates back to the days when the Artichoke was an old hostellery past which artichokes were transported from the docks to the tables of Westminster and the City
And I'm told by the locals – the area is home to a mix of council estates and pied-a terres owned by MPs and TV people from ITN – that the atmosphere here is quirky and friendly, with Greensmiths deli supermarket always packed out and a few small galleries popping up along the street which is home to international food stalls during the week.
And last weekend things began to look even cheerier with the launch of the Lower Marsh Saturday market, brightening up this corner of SE1 long overshadowed by its fashionable South Bank neighbours.  Although there have been markets here since the 18th century, the vibe is not at all traditional with stalls such as Bad Boys Bakery, selling bread made by ex-offenders through an initiative started in Brixton prison and The Pressery, with its raw almond milk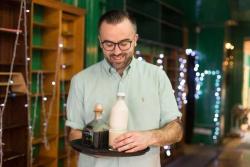 Theo Cooper, founder of temporary dining establishment Chateau Marmot lives round the corner, and chose the former Cooper's health food shop as the setting for his latest pop-up to celebrate the opening of the new market. He admits he has had his eyes on the stained glass old style grocery shop front for the last few years. Over 200 diners came to the pop-up where chefs Chris Lyon and Tim'Tonto' Yates used British produce from the Lower Marsh market's suppliers to create their weekend menu. Charcuterie from Cannon &Cannon and eggs from Orchard Eggs were featured. Hansen & Lyderson provided the smoked salmon while The Pressery's almond milk formed the basis of a tiny Eton Mess to finish
Chateau Marmot specialises in using'unexpected locations' and  is active not just in London but at pop ups across the UK, and even further afield with a successful event last year in a tea house in  Melbourne, Australia   
Back on the Lower Marsh market things were buzzing with a throng of Saturday shoppers picking up cheeses, macaroons, cupcakes, fish and organic meats.