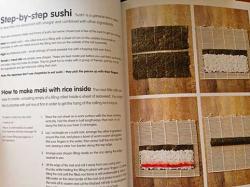 Itsu [dining] 100 Notting Hill Gate, London W11 3QA  www.itsu.com
There are few Londoners who haven't been drawn in by the primary colours, bold font and tantalisingly healthy food on display at a high street branch of itsu.
What you might not know, if all you do is sprint in from your desk for salted edamame beans, chocolate-covered rice cakes or steaming pots of brown noodle soup, is that itsu is more than just a chain. The brand has a handful of sit down restaurants, one of which, the smart [dining] venue in Chelsea, scooped Time Out's Oriental Restaurant of the Year award.
itsu has big plans to spread outside of London, starting with the opening of a £1 million restaurant in Oxford last year. But before all that, their latest project is one that founder of itsu, Julian Metcalfe, has been mulling over for years but never thought would happen: the release of the itsu cookbook.
Upstairs, at the Notting Hill Gate itsu [dining]'s Butterfly Bar, underneath the rainbow-painted wall decorations and surrounded by sweeping views of London by night, courtesy of the floor-to-ceiling windows, the room was buzzing with book launch chatter.
The book in question, a chunky, white rectangle covered in the same itsu brand font (but without the softly-lit photographs of lithesome model types running about on beaches that adorn the walls in branch) offers "100 low-calorie eat beautiful recipes for health & happiness," with every recipe taking under 30 minutes to make and weighing in at under a waif-like 300 calories.
While we were fed sushi-sized canapés and deliciously strong ginger mojitos, I leafed through the book, admiring its glossy pictures, comprehensive stockist guides and idiot proof methods. Although I did balk at the'Storecupboards essentials' page, which – in a frighteningly similar manner to Gwyneth Paltrow's It All Good book – suggests that things like kombu, bonito flakes, crystal roll wrappers and dashi powder should make it on to your essential shopping list.
The Asian-inspired restaurant favourites (yes, the top selling Vietnamese chicken salad dish made it into the book) were put together by Julian Metcalfe and chef and writer Blanche Vaughan. They were also monitored and calculated by nutritional consultant Angela Dowden, the brains behind the phenomenally successful 5:2 cookbook, who has meticulously worked out fat, calorie counts and superfood content in each and every recipe.
itsu isn't the first to release an own brand cookbook. Noodle chain Wagamama put their own book out onto the market in 2005 and, if you think that revealing the secrets, methods and ingredients behind the food on the menu in store might be financial suicide, then think again. The meals are all aimed at quick cooking from a well-stocked vegetable and spice store cupboard so, unless itsu regulars fancy carting carrier bags full of emergency fish sauce and sushi mats to the work canteen, then it's unlikely that this release will damage their day trade of speedy lunchers and one-stop healthy shoppers.
The eagle-eyed will spot that while itsu claims to make 64'light, green' dishes in store, there are a nice round 100 recipes packed into their smart cookbook, which means that over a third of the food in the book consists of brand new meals. Good news for staunch fans of itsu's brand of Asian lunches and suspiciously good for you snacks.
The book is available for £15.99 in all itsu branches, and at Heathrow airport, or not, actually, because, according to a beaming Julian Metcalfe on the night of the launch on 27 February, those sold out within a few hours.
{ISBN:1845338987}