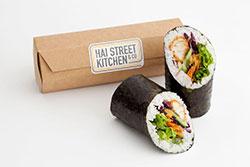 Thought burritos were exclusively the preserve of Mexican restaurants? Think again.
Tomorrow (March 5th) sees the opening of Hai Street Kitchen & Co, a'Japanese burrito' bar, in London's Leadenhall Market. The opening will be followed by one in Philadelphia in the USA, as well as two more UK sites later in the year.
What, then, is a Japanese burrito? Hai Street Kitchen serves up either burrito style sushi rice rolls or a bowl of rice or salad, which is made up freshly in front of diners a la a burrito bar. Diners can choose from a variety of fillings including chicken or fish katsu, grilled pork belly, flank steak and roasted carrot. Hai Street Kitchen can add a selection of homemade sauces and toppings.
In addition to the'burrito', a tasty selection of sides is on offer, including renkon chips, tomato bisque and miso soup.
The concept isn't therefore stomach turning like we first thought and sounds like it could be quite tasty. We look forward to heading down to the City and saying Hai.
38 Leadenhall Market, London, EC3V 1LT
Follow @HaiStKitchen