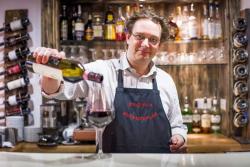 Enoteca Super Tuscan, the Italian wine bar in the heart of Spitalfields, will be hosting Super Tuscan Wine Week from 28th April to 2nd May.
Super Tuscan Wines are some of the most thrilling wines to come out of Italy, created by vintners who threw out the rulebook and focused on bringing the best wines they could to the palates of the world.
Founder Nick Grossi will be following their lead and showcasing the finest Super Tuscan wines in London at his enoteca for a weeklong celebration. Nick will be on hand to guide guests through the week of bacchanalian delights, which include: a Pometti Toscana (£7.50 a glass or £29.55 a bottle), a'Bordeaux Blend' that pairs perfectly with a plate of fresh tagliatelle and kid goat ragu (£13.95); a rich ruby red Petra'Zingari' (£8.50 a glass or £35.95 a bottle), bursting with cherry fruit and a hint of wild rose, matched with tagliatelle and duck ragu (£13.50); Le Difese Tenuta San Guido (£10.95 a glass or £39.95 a bottle), which is elegant and soft with cherry and wild berry flavours that's the perfect accompaniment to char-grilled Tuscan fennel seed sausages and lentils (£14.50); and Le Volte, Tenuta Dell'Ornellaia (£11.95 a glass or £44.95 a bottle), a balanced and refined complement to char-grilled veal chops (£20).
The final day of Super Tuscan Wine Week will be an excellent opportunity to sample one of the most beautiful Super Tuscan wines, the Tignanello Antinori. An impeccably elegant and soft wine, (£37.95 a glass or £125.50 a bottle), it will be available by the glass on 2nd May, to enjoy with Spezzatino alla Toscana, the traditional Tuscan slow-cooked veal stew (£17.50). The perfect end to what is sure to be a week of true Italian decadence. Super Tuscan Wine Week at Enoteca Super Tuscan – 28th April – 2nd May