You may need some experience in orienteering to hunt out the Waterloo Wine shop in Borough, the historical wine trade area of South East London; but you don't have to be Indiana Jones to tap their website address into your computer and drool over the list of wines.
Principally aimed at the restaurant and wholesale trade, the list really is remarkable for its diversity and value, having been honed by Paul Tutton, who's expertise ranges widely from the foundation of Tutton's restaurant and bar in Covent Garden to co-ownership of the fabulous Waipara West winery in New Zealand.
While there are a good number of fine Burgundies, Clarets and Rhône wines in the £40-£100 range available, the majority of wines are priced under £20 with plenty of tempting choices at £10 or under. I took a look at four of the less expensive wines and found that Waterloo Wines show class when it comes to making a selection in this price range.

Rosés, so often tempting in the summertime, can be disappointingly mono-flavoured but  Domaine de la Tour Boisée Minervois Rosé   2011 (£7.65), from south west France, has a touch of stardust about it.
Delicate in colour and perfume, it is a sophisticated rosé with restrained red berry fruit enlivened with subtle granny smith's apple and refreshing grapefruit. I loved it. It's very good value and superb with food.
Any of the wines from the New Zealand Waipara West range are worth every penny for their quality and individuality. Amongst these, the Riesling has been receiving particular critical attention.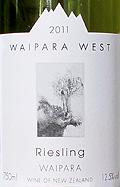 Waipara West Riesling  2011  (£10.00) excites every part of your palate with a bombshell of citric nuances and mineral verve. It will keep you guessing as to which fruits you are actually finding in the distinct and individual line up; but mandarin is definitely the magic personality here. This wine has plenty of'wack' that can happily deal with demanding food ingredients like ginger and chili.
Waterloo Wine has a refreshingly well- educated selection of wines from Alsace, the great vineyards of Germany and, unusually, Austria.

Gruner Veltliner Klassik, D.A.C. Weinviertel 2010  (£10.25) originates form a high quality area north of Vienna and beautifully demonstrates its regional style. 
Steely-dry and mineral on the nose with a slight but stern'petillance', 'Klassik' really is the word here; no fancy, modern, tropical flavours. Lean, mean, citrus grass and pepper dominate this experience for the serious minded wine lover with northern european tastes.
Francophiles are spoilt for choice at Waterloo Wine. I chose to revisit my youthful camper vanning down the River Loire in search of cellar doors by trying the

Chinon, Domaine Francois Médard 2010 (£9.65)
With a good nose of ruby fruits and a little chocolate liqueur, this essential of the dining table is light, pure and mature with the characteristic fine tannins of the cabernet franc grape. The long cherry finish completes the elegant and refined experience of this French classic that is so perfect with poultry and game.
The comprehensive nature of the Waterloo Wines list makes it a'must see' even if you're only window shopping; and If you do make it to the Borough showroom, you're likely to emerge with some promising purchases and a smile on your face.
61 Lant Street, Borough, London SE1 1QL
The shop is open between 11.00 & 19.30 Monday to Friday and 10.00 to 17.00 on Saturdays.