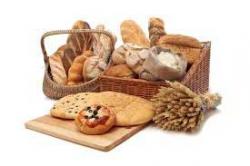 Craft Bakers' Week is organised on behalf of the hundreds of craft bakers across the UK who are an integral part of the British high street and their local communities. Many of these bakeries are family run businesses where skills and recipes, including those for regional specialities, have been passed on from generation to generation, helping to preserve this vital profession.
During the week there will be tastings, promotions, competitions and fundraising activities for charity partner Make-A-Wish ®UK. Plus there will be the opportunity to vote for your'Most Loved Bakery' in September.
The Rise Of Sourdough
There is no doubt that sourdough is the bread of the moment, with bakeries around the country experiencing a big demand for this increasingly popular loaf, which is made with ingredients whose origins often go back years, sometimes up to a hundred!
But what is sourdough and how does it differ from traditional bread?
Sourdough is bread which has been made using a'starter' instead of traditional yeast to create risen loaf.
What is a starter?
The'starter' used in making sourdough is a mix of flour and water, which is fermented and'fed' with additional flour, initially over a few weeks, to create what bakers call the'mother'. This'mother' has a thick, batter like consistency and can be nurtured by the baker for months, or even years. It is from the'mother' that a baker takes the'starter' mix to use as a raising agent in each batch of dough.
Each time a baker removes a new'starter' from the'mother' mixture, they replenish it with an equal mix of flour and water, in order to keep their'mother' going.
How does it work?
When a baker creates the initial'starter', the flour and water absorbs natural yeast from the air around it. As this ferments and the'starter' is'fed' with flour, the yeast is strengthened until the mixture can act as a raising agent in the dough mix.
Visit  www.realbreadcampaign.org for more information.
10 Steps to Creating the Perfect Sourdough from Kelvin Ellam, Technical Baker at Marriage's Flour
Step 1: Mix 10g flour and 10ml water, stir them together until they make a paste and leave covered in a warm place overnight.
Step 2: The next day, add another 10g flour and 10ml water and leave again overnight. Repeat this process on days three, four (by which point the mixture should be bubbling) and five to create your'starter'.
Step 3: By the sixth day you should have 100g of your'starter'. Add another 100g flour and 100ml water, to give a total 300g weight.
Step 4: Although you now have a useable'starter', it is not very strong. Therefore you now need to strengthen the starter. On day 6 remove 200g of the mixture, and replace this with 100g of flour and 100g water. Repeating this process every day for two weeks will build your starter up and create the'mother' for your future sourdough loaves.
Step 5: The'mother' can be kept in the fridge and is now ready for use. You can continue to use your'mother' indefinitely. Whenever you want to use it, simply remove and replace 200g from the flour as usual, but do not throw the 200g away.
Step 6: Instead, take the 200g from your'mother' and add it to 500g flour, 300g water and 10g of salt. This is now ready to create your dough. 
Step 7: Knead the flour, salt, water and 200g of'mother', for 10 minutes until it forms a firm dough.
Step 8: Leave your dough to rise for four hours, creating a gentle book fold in the dough every hour. Split the dough into two 500g halves and leave each half to rest for 30 minutes.
Step 9: Gently do a final shape of the two halves into rounds and leave them to prove in a container under a cover for a further 3 to 6 hours.
Step 10: Bake the loaves on a pizza stone or baking tray 230C, reducing the temperature after 20 minutes to 210C and leaving for another 15 minutes. Cool the loaf to set the crust.