Take the train from Casablanca going south
All aboard the Marrakech Express! Momo, one of the West End's most promising North-African restaurants, has added an Afternoon Tea menu, served daily between 12:30 – 17:30.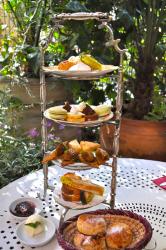 For £22 it comes with traditional mint tea and a good selection of Moroccan nibbles. Look out for the Zaalouk & Mechouia on toast, or, if you fancy something a little sweeter, the Maghrebine pastries and pistachio macaroons sound too good to pass up.
For £32, you can add a Momo special (ask staff for further details,) or a glass of champagne. All of this can be taken on Momo's tranquil terrace, which, using heaters and blankets, can repel even the coldest autumn evenings.
Hospital FEAST
Friday the 13th: scary for some, fortunate for others. If you're looking for a good way to spend your Friday that doesn't involve young men with a love of hockey, mosey on down to the Quad at Guy's Hospital for some food, cocktails and live music courtesy of FEAST. 2013 has been all about street food, and this FEAST intends to showcase the best selection of London's street foodies and chefs.
Chef sessions will also be introduced to the event for the first time, where chefs will cook in front of the crowds –Jose Pizarro and Robert Ortiz Rosas from Lima will be making sea bream ceviche and Peruvian donuts.  FEAST favourites Patty & Bun, Pizza Pilgrims and Caravan will be all be at the event as well as a host of newcomers including The Albion, Bob's Lobster and Smokin' Hot Tamales.
Hot off the presses: Village East – part of the Village London restaurant group – will be reopening after an extensive renovation of both interior and menu.
Expect a hip new decor (spearheaded by co-founder Adam White,) new cocktails (including the savoury Beetroot Mary – a recipe for which can be found here) and a Chicago inspired menu from new head Chef Toby Stuart, who apparently enjoyed a recent jaunt to Chicago so much that he thought he'd bring a little of the Windy City back with him.  
Word is, the bar and longue will be cosy with an emphasis on bar dining, while the main dining room will cater to those who enjoy a comely country house/kitchen vibe. A worldly and convivial wine list is being developed to continue monthly wine nights hosted in the lounge bar, and an alternative cocktail menu will offer the classics, seasonal inspirations and an abundant selection of home-infused spirits and aged Negronis.
Village East will re-launch on September 18th and reopen fully in early October.
Tiana launches new range at Holland & Barrett
Missing summer already? Tiana, organic specialists, are launching a new range of products at Holland & Barrett.
Those who consider themselves coconut-crazy can enjoy the totally fashionable new Organic Coconut Water. If you don't know (or love a good paparazzi candid as much as I do,) Rihanna, Jennifer Anniston and more are always sighted sipping on coconut water, which is a favourite for Hollywood lovelies wanting to maintain A-list figures. Also launc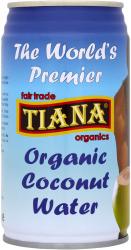 hing is the Organic Exquisite Omega 3 spreadable which is a coconut oil based healthy alternative to dairy butter that is spreadable at room temperatures. High in Omega 3, 6 and 9 essential fatty acids (yum) and containing coconut oil, olive and flaxseed.
New Vinoteca opening in Chiswick this month
Coming to leafy Chiswick at the end of the month, Vinoteca will be on Devonshire Road, have seating for about 50, with 20 stools at the long bar for lounge/casual types.
Looking to impress, the drinks menu boasts an ambitious 270 wines from around the word, with many sourced from artisan producers, smaller importers and directly from vineyards. If you try a wine and fall in love with it, you can take it home or buy it online at a competitive rate. There is also a range of Bag-in-Box wines (stay with me here,) which are premium wines imported from the producer and bottled on site. The wines are transported in 5 or 10-litre boxes, which keeps them fresh, and then bottled in refillable bottles on site to be drunk in the bar or taken away. Since introducing them in 2010 Vinoteca has saved around five tonnes of glass, which is probably around the amount you're sure to find on the floor of any student union.
The menu will change daily, be Seasonal, and largely sourced from British farmers, growers and fisherman. The menu has strong influences from the wine growing areas of France, Italy and Spain, with produce from these regions running through the menu. Charcuterie will also feature, including Jabugo hams, salchichones  and chorizo rojo and blanco sourced directly from Spain.
Vinoteca's Head Chef is James Robson ex- River Café , The Wapping Project, Artisan & Vine and the Tabernacle as well as 18 months as Chef Patron of L'Office in Paris.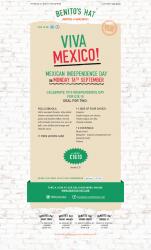 ¡ Celebra los buenos tiempos vamos!
On September 16th, Mexican restaurant Benito's Hat are planning to celebrate Mexican Independence Day so hard you'll hear the cries all the way from Dolores!
In honour of over 100 years of Independence, Benito's Hat is celebrating 1810 with a special £18.10 menu. Honorary Mexicans can get half a Sinaloa grilled chicken with one side, two cocktails and a tres leches cake for £18.10, rather than the usual price of £32. Get the mariachi bad, mix the margaritas!
Going once, going twice
What have you got planned for the 17th September?  If you're a Scotch Egg fanatic (I know you're out there!) you should check out the Scotch Egg Challenge at The Ship Wandsworth.  This year, Scotch Egg Challenge has teamed up with humanitarian charity Action Against Hunger to hold a two and a half day online auction/eggs-travaganza.
From midnight on the 17th until midday on Friday 20th the charity auction will give Scotch egg enthusiasts the chance to bid for their favourite yolky creations from some of the UK's leading establishments – including the as yet unknown winner of the Scotch Egg Challenge.  With a dozen eggs donated by over 30 restaurants and pubs, including the 22 Challenge finalists, fans can battle online to secure their lot; with all proceeds going to Action Against Hunger.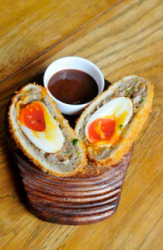 Pick from the likes of Whyte and Brown; Fino; The British Larder; Duck & Waffle; The Modern Pantry; Cinnamon Club and last year's Challenge winner the Bladebone Inn.  Making use of all kinds of eggs from gulls to quails, wrapped in everything from sausage meat to smoked venison, salt cod béchamel, wild boar, confit duck meat and waffle crumbs, you can potentially land of the weirdest/tastiest Scotch Eggs ever conceived.
If you need to be there, head to The Ship on the eve of the Challenge and scramble for a taster as the panel – including celebrity chefs Gizzi Erskine and Eric Lanlard, Kevin Love (Head Chef at Heston Blumenthal's Michelin-starred The Hind's Head), and Stefan Chomka (Deputy Editor of Restaurant magazine) – decide which egg should be crowned the nation's best.
If you fancy getting involved, go to www.scotcheggchallenge.org on 17th September. Happy bidding!