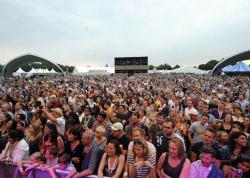 During a recent event on Clapham Common where a line-up including The Mystery Jets and Soul II Soul featured alongside demos from people like Giorgio Locateili and Sophie Grigson, Jamie Oliver once again proved himself to be the entrepreneurial Everyman we can't help but like. The brand new Big Feastival – set to become a genre in itself no doubt – proves one glaringly obvious fact: good music and good food is where it's at.
For some time there's been general agreement that festival food is a far cry from what it once was. Yes, suspicious-looking hog roasts and breakfast baps are still on offer for taste buds that have taken early retirement. But if you don't enjoy eating processed rubbish when all other creature comforts have been willingly put on hold, the alternatives are pleasantly surprising.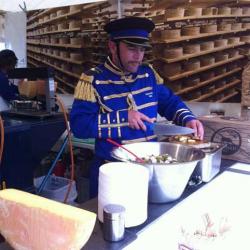 If Glastonbury Festival of Contemporary Arts is the largest of its kind throughout the entire world, it's hardly surprising that the site's 250 food stalls are as diverse as the space they inhabit. Accommodating around 180,000 visitors to Worthy Farm over five days requires logistical planning par excellence, and that includes making sure everyone's appetite is catered for in some form or other. Michael Eavis might have been able to offer a free pint of milk with every £1 festival ticket sold back in 1970, but with only 1500 attendees that year, he didn't quite have the same operation on his hands.
The very nature of the British palate dictates that world food is well represented at Glastonbury. As well as all the usual suspects, festivalgoers can sample Thai, Barbadian, Jamaican, North African, Mexican, Greek, Philippine and Singaporean cuisine. As if that's not impressive enough, this year even saw a luxurious Japanese sushi yurt set up camp. 'Raw fish in the middle of a muddy field?' I hear you say. Trust me, don't knock it 'til you've tried it.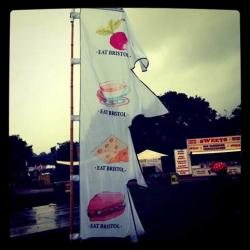 It's not all wahaca and wasabi however, with countless stall holders proudly flying the British food flag. New to the festival this year was a collective of artisan producers working under the banner of Eat Bristol, offering between them everything from West Country raclette to High Tea grown in Hampshire. 'As a smaller business coming to a festival can be a daunting prospect," explains Eat Bristol member and Trethowan Dairy owner Todd Trethowan, 'Our idea was to share our resources, our produce, and to offer one another some moral support along the way!"
Well-seasoned hedonists had more to gain from places like Eat Bristol than just great food, too. This savvy bunch know that a festival is a marathon not a sprint, and don't expect to party into the early hours each night without fuelling the fire at regular intervals. In lieu of indeterminable fatty fry-ups, this happy camper was content start the day with a Bristol-blended brew www.lahlootea.co.uk and organic bacon baguette or a bowl of warming porridge. It's probably my Roman blood that won't abide debauchery (or a day's marching) on an empty stomach.
A kitsch and delectable meal-time option also came in the form Strumpets wi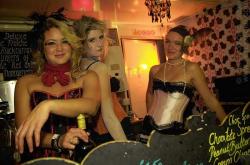 th Crumpets who describe themselves as 'brazen sassy and well-versed women in a ridiculously flamboyant wagon serving crumpets to those in need of superior tasting morsels of joy'. Corsets and feathers aside, these women's crumpets are so good I sought them out after sampling their superlative snacklettes at Bestival three years previously. Their goats' cheese and blackcurrant jam topped crumpet can only be described as a work of genius.
Whether it's listening to new music in the sunshine or exploring the surrealist playground of Shangri-La, anyone who's been to Glastonbury would probably agree that the festival is a true feast for the senses. Thankfully taste has long been one of them, and any place where musos and foodies can both come away feeling satiated is well worth braving the mud for.
To register for Glastonbury 2013, visit: www.glastonburyregistration.com