First he massages the kohlrabi. Then he fingers the fennel. Watching Guy Watson, founder of Riverford Farm, handle his vegetables with a true farmer's dirty fingernails is heartening. He's the bloke behind the Riverford vegetable box scheme. And now he's decided to put the show on the road, taking his staff from Devon across the country this summer to pitch up at farms and serve dinner to locals. He's doing this in a yurt – a wooden, lattice-framed structure from Central Asia – though this one is built from ash on his farm.
Tonight we're at Freightliners City Farm in Islington, in the company of mooing cows. Some cynics would say only in Islington could you have organic dinner in a yurt. And a glance around the murmuring tables would confirm perceptions that organic is not for the masses.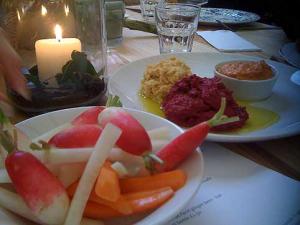 The crowd is very N1 in its comfortable affluence and rimmed glasses. This is a healthy lot, large-framed, conservatively-draped. They're mainly late 30s to 50s and very white – an anomaly given the ethnic diversity of the area. And this is such a shame as, as Watson says, organic boxed veg can often be cheaper than supermarket stuff, and often – not always – superior in taste.
Watson's own ethos of organic and sustainability is evident, he says, in the way he manages his farm. He says he tries 'to work with nature" as much as possible. This means smaller fields and flowers in the hedgerows so that hoverflies, which love the flowers so much they lay eggs on them, can gobble the aphids before they hatch.
The food here, when it comes, is in huge portions and rainbow colours. Here's your five-a-day for the week in one sitting. Everyone helps themselves at the table, family-style.
We had grilled leg of lamb on a bed of flageolet beans with salsa rossa and new potatoes baked in parchment. Sides were braised carrots, turnips and kohlrabi. The lamb was some of the best I've had in a while. I'd been reticent, expecting something bland and oily but the quality was excellent, pinkened in the middle, they tasted of sedge and were tender as the night.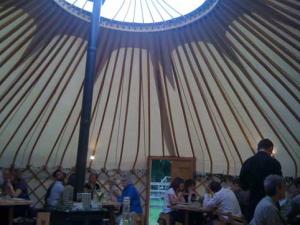 The mound of beetroot puree was silky, lemony and smooth with cumin, a rustic hummus and red pepper dip scooped up with matchsticks of kohlrabi, radish and carrot. This came with some very tasty salted crisped bread. The salsa could have been hotter though.
Cabbage, understandably maligned, put on a burlesque tonight, glamming up with a slick of garlic and ooshes of butter. Very tasty. Vegetables are so much more pleasurable to eat when gaily coloured and prepared by others. The feast came with a huge and devilishly pretty salad of rocket and other salad leaves, radish, slow-roast cherry tomatoes, first broad beans, parmesan shavings and asparagus.
At the risk of gushing, my pudding of blueberry pavlova was also fantastic. The blueberries were sweet and understated, unlike the rank, screeching sour bullets my local supermarket stocks. The meringue was ace too – chewy gooey, quite perfect.
This is the first year Riverford goes on the road – the staff are away for three months, with some home visits between camping in farms around England. Plenty of time for Watson to use his turnips, and plenty of time to find the yurt.
The Travelling Field Kitchen, serving meals from the Devon-based Riverford Field Kitchen restaurant, is pricing two courses at £17.50 and three from £22.50.
It will rove around eight locations countrywide, including the WOMAD music festival, culminating at the Abergavenny Food Festival