The UK now consumes 28 million litres of olive oil each year, which accounts for 2.9% of the world's consumption. This is being attributed to the rise in reports that the Mediterranean diet is one of the healthiest in the world and it seems like we're taking notice!
Here are some recipes using olive oil that you might like to try: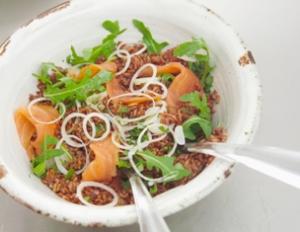 Red Rice Salad
Serves 4
Ingredients:
225g/8oz red rice
175g/6oz smoked salmon
4 salad onions with large bulbs, trimmed and in thin rings
Handful wild rocket leaves
1 tbsp roughly chopped fresh parsley
For the dressing:
1 tsp Dijon mustard
1 tbsp white wine vinegar
4 tbsp extra virgin olive oil
Juice of half a lime
A little salt
Freshly ground black pepper
Method:
1. Cook rice in boiling water according to packet instructions. Drain and reserve in a bowl. Cut smoked salmon into fat ribbons and add, with onion rings, rocket and parsley and toss lightly.
2. Place mustard in a bowl and stir in vinegar. Add olive oil and lime juice and whisk. Season with a little salt (remembering the smoked salmon is salty) and freshly ground black pepper. Pour over salad mix and toss to coat. Transfer to a serving bowl to serve.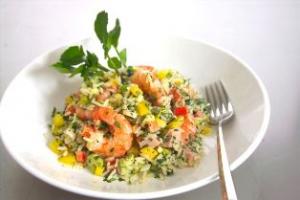 Prawn and Ham Rice Salad
Serves 4
Ingredients
225g/8oz easy cook long grain rice, cooked
1 each red and yellow peppers, seeded and diced small
3 tender sticks celery from the inside, finely sliced
4 shallots, peeled and finely chopped
1 thick slice ham (preferably off the bone) in small cubes
12 cooked and peeled tiger prawns
3 tbsp finely chopped fresh flat parsley
Salt and freshly ground black pepper
3 tbsp dressing (see below)
Watercress sprigs for serving
2tbs white wine vinegar
6tbs extra virgin olive oil
Tsp honey
(taste dressing before use and add more oil or vinegar to taste)
Method:
Place rice in a bowl. Add peppers, celery, shallots, ham, prawns and parsley. Season with salt and freshly ground black pepper. Spoon over dressing and toss thoroughly. Serve decorated with watercress sprigs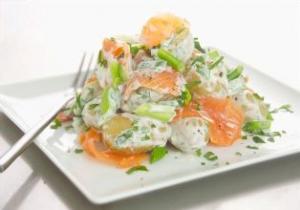 Smoked Salmon Potato Salad
Serves 4
450g/1lb baby new potatoes, scrubbed
6 spring onions, trimmed
225g/8oz sliced smoked salmon
5 tbsp mayonnaise
1 tbsp creamed horseradish
Juice and zest of half a lemon
Good pinch cracked black pepper
½ tbs extra virgin olive oil
Method:
1. Boil potatoes in lightly salted boiling water until tender. Drain and reserve in a large bowl. Stir in the extra virgin olive oil. Slice spring onions on the diagonal and add to potatoes. Tear smoked salmon into pieces and add to bowl.
2. Place mayonnaise into a bowl and add creamed horseradish, lemon juice and zest and cracked black pepper. Mix well, then spoon over potato mix and toss lightly to coat. Pile onto a serving platter to serve.