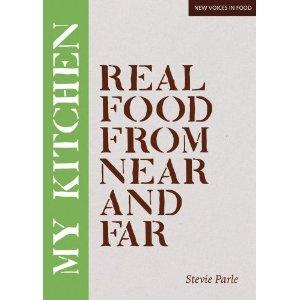 As opposed to fake food perhaps? No we know what Stevie means, he's talking about food that is not restaurant style, not prettified, petrified, emulsified and self-satisfied. Well it's hard to argue with that.
Stevie Parle is one of those lucky people that has been everywhere and eaten everything and now lives idyllically on a houseboat on the Thames, a pontoon vegetable garden bobbing nearby and an allotment just a cycle (naturally) ride away. Those of us sweating in London flats can only suppress burps of envy. As you might have guessed, he's cooked at The River Café and writes in The Guardian. He's that sort of guy.
As he says in his intro, all the recipes here are ones he has seen or been taught around the world and which have evolved from the circumstances of the people who have created them – often poor but rich in local ingredients and tradition. Inevitably he can be somewhat pious in his lectures on sustainability and other fashionable topics, most of us have got the message by now and it can come across as patronising – but he means well.
It is of course best not to examine the writers themselves too much anyway; Floyd was not the nicest man to know, Nigella is hard work, Jamie is just unbearable. It's the recipes we want, not the cook's philosophy on life and so how does Stevie do on that score?
Well the constraints of the medium – Quadrille have eschewed glossy photos and quality paper for this book in the series New Voices in Food and have gone for the hair shirt approach – this means honest cardboard covers and illustrations of food that trumpet eco friendliness but don't excite the taste buds too much. The words have to do all the work.
Arranged around the months, January to December, the book aims to help you cook seasonally, as we are all told we must. January for example is food for cold weather, slowly cooked and made with what little is available fresh, or dried such as chick pea curry, or something blindingly simple such as pepper and salt pasta with pecorino (sshh don't mention the carbon footprint of imported pecorino or indeed the price).
Dishes throughout the year major on simplicity and are often ethnic, reflecting Stevie's travels; coconuts, dalls, tempuras are conjured up in dishes that make you think of Festival catering. Not much comes from Europe, but when it does it still has that sense of student food, not always a bad thing. Although a dish of pheasant learnt from Rose Gray has a definite upper class ring to it.
It's a recipe book for bloggers; it's their kind of food – a remembrance of gap years past. Everything sounds tasty, nothing sounds too tricky, although if you don't live an area with a variety of ethnic shops you may hit some brick walls ingredients-wise. Some actual photos might have hastened the demise of the planet, but would have helped sell the recipes, but the illustrated guides to preparing artichokes, mangos and other tricky beasts are handy.
This is a book from the other side of the restaurant world – one of pop-ups, and drop ins not reservations and fine wines. It's young, as is Stevie, and is fresh in its approach. There's still time for Stevie to succumb to sous vide, but hopefully he won't be doing so for a few years yet.
{ISBN:1844008495}