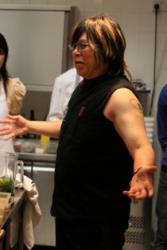 I was invited to Alvin Leung's cooking masterclass at L'atelier des Chefs in Wigmore Street recently to see how Alvin creates some of his X-treme Chinese cuisine at Bo Innovation in Hong Kong, where he holds two Michelin stars.
The demonstration was 'hosted' by our own TV Chef, Sophie Grigson whose task it was to keep Alvin and the proceedings on track, not an easy one I have to say. Sponsored by the Hong Kong Tourism Board, the event was in part staged to promote Festive Hong Kong 2010. So having given us a brief introduction, Sophie handed us over to this inventive Chinese chef. Alvin spoke about his restaurant in Hong Kong, which 'we should all visit' and understandably, given the sponsorship of the event, peppered his introductory talk (and his cookery demonstration) with references to the wonderful things that Hong Kong has to offer – it was quite amusing really.
To the demonstration – to start, Alvin showed us how he made 'Dead Garden' a charmingly named dish, that is created by making an edible soil from mushroom, sugar and more, covered with a foam made from green onions and lime and planted into it freeze dried enoki mushroom to represent a dead plant, and finished it off with a worm made from onion. It was very creative and looked interesting and intriguing in the glass it was presented in. I didn't get to taste it, sadly.
Alvin next created Pat Chung Vinegar, a dish containing cherry tomatoes which have been peeled and then slow cooked at a low temperature in a sweet Chinese vinegar 'that you can only get in Hong Kong'. This was then served with pan seared foie gras, itself immersed in the vinegar, the two were a marvellous combination finished off with a ginger parfait. After eating the tomato and foie gras, you are then presented with a small glass of this sweet vinegar to drink,it is very pleasant and worked well after the other elements of the dish.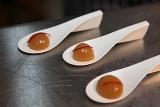 The next dish that Alvin showed us was a molecular creation, for which he had made up a very rich pork stock, this is then spooned into a liquid compound that creates a skin around the 'ball' of stock, it is then gently lifted from the compound and gently warmed through at about 60 degrees in a water bath, placed on a spoon and decorated with a shred of pickled ginger. The end result was nothing short of divine, the liquid ball has such an intense depth of flavour as it burst in the mouth and the ginger just lifted it in coming through at the end giving the mouth a little zing.
These were just three of the dishes either demonstrated by Alvin, or created for us to sample that evening. Another was, 'Big Bang' a sugar globe, filled with sweet Chinese almond and hawthorn then filled with sandalwood smoke, and the final one, a rather involved duck dish that was lovely. Alvin and his team had also made a number of canapés: salty lemon white chocolate truffles (which were every bit as lovely as you might think); passion fruit egg tart (a zingy custard tart, and again excellent) and kaffir lime macaroon, which was also great.
After the demonstration, I had the opportunity to talk with Alvin. He told me that he was opening a restaurant here in London's Mayfair later this year. He said that he would feature a tasting menu of many of his creations and that it was his intention to ensure that the cost per head would be under £100, but he couldn't be more specific and like many top chefs who are opening new restaurants in the coming months, he was cagey about the exact location. If his food that evening is anything to go by, it will absolutely be worth finding and sampling. I was very impressed with what I had tasted. Would I make a special trip to Hong Kong to eat in Alvin's restaurant there? No. Would I go to his restaurant in Hong Kong were I to be there on a holiday? You bet I would. Will I go to his restaurant in Mayfair when it opens? Absolutely.
If this has whetted your appetite and piqued your curiosity about this former British Colony, to find out more about Festive Hong Kong 2010 go to www.discoverhongkong.com . To find out more about Alvin and his two Michelin starred restaurant there go to www.boinnovation.com