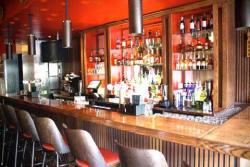 Late May and early June have been busy times for many as we strive to free-up time for the start of the World Cup. I am no different, putting in extra hours and adjusting my sleeping pattern. The prospect of extra work has been rather unattractive until a visit to Bodean's was on the cards.
Bodean's invitation lured me with a few B-words, 'beer', 'bbq' and 'big-screen'. An intended initial introductory investigation via the website lasted longer than planned, as page after page brought out my gluttonous side. Move over knife and fork, step aside table manners, it's time to regress to caveman instincts, it's time for meat, some cold ones and sticky fingers.
Bodean's Tower Hill venue is close to a few tube stations leaving only a couple of minutes of dodging the ever-so animated 'suits'. Luckily my accomplice knows the surrounding area well. We soon arrive and are immediately introduced to the Canadian owner, Andre, described by the website as an 'all-round sports fan'. The place is your classic North American sports bar complete with big screens, wooden walls and plenty of beer-related items scattered around the inside. As far as I am aware, the two biggest sports in Canada are ice hockey and professional wrestling. So, allow me to introduce us in an appropriate manner…
Entering the venue, standing 5 feet 9 (and a half!) inches tall, weighing in at 17 stone, Marcus 'The Machine' Sedghi. His tag team partner, standing 6 feet 8 inches tall, weighing in at 21 stone, Tiny Al. I was confident that our combined presence would test Bodean's, but Andre was unfazed, his restaurant could handle us, after all, Andre sponsors a London ice hockey team, so an American Football player and a rugby player were easy. Challenge extended, challenge accepted!
A refreshing glass of tequila and lemonade cleansed the palette and soon our first taste of Bodean's came in the form of chicken wings, a favourite of mine. A good chicken wing has plenty of tasty sauce but retains its initial crispy bite. Bodean's wings matched both of these criteria, a crispy texture but also a smothering of a tangy sweet and spicy sauce. Excellent.
Inevitably mini-burgers arrived, (you just can't escape these critters!), some were made-in-house beef patties and others of soft, succulent pulled pork. The beef patties were great quality, but the pulled pork stole the show with its moist and melting texture. These were accompanied by better than usual American beers, Samuel Adams and Honey Brown, both having a slightly sweet taste to them.
I could have, (and possibly should have), called it a day after the chicken wings, burgers and beer, but plates of sausages and ribs appeared followed by Tiny Al's words, 'Oh mate, this is the good stuff." I had to man-up and dig-in. Oh boy was I glad I did, the ribs were so tender that the meat just peeled off the bone and the sausages oozed flavour. A smooth whiskey sour was a perfect accompaniment.
This was my first visit to a Bodean's restaurant and definitely will not be my last. There's more of a welcoming and personal atmosphere compared to other American sports bar style restaurants I've visited. The attention and care given to the preparation and standard of the food is shown through the tenderness and taste of the meat. Throw in some good American beer and sweet cocktails and you've got a fine recipe for a good night out.