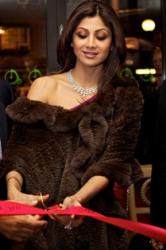 We arrived for the launch of Bombay Bicycle, fashionably 10 minutes late and were greeted at the entrance with the offer of a glass of Champagne, which of course it would have been rude to turn down, so having divested ourselves of our outer wear; we each politely and with smiles on our faces, accepted the offer.
With our glasses of chilled bubbly in hand we proceeded to explore this latest venture of the V8 group, that has been created out of the former Vama restaurant, also a V8 venture,. We understand Vama is relocating in London's West End and is set to open this Spring/early Summer. We wandered through this newly fashioned eatery, struck by the bold vibrant decor, with its strong colour palate softened by yards of sheer curtaining. It all comes together well to create a warm and inviting space, both in the main dining area on the ground floor and in the smaller, more discrete dining room on the floor above.
Amid the hubbub and the bustle of the invited VIP guests and media types, waiting staff recharged our glasses at regular intervals as others circulated the room with platter after platter of interesting canapés, which included: crispy little chicken spring rolls; chicken korma filled vol au vents; lightly spiced skewered prawns; deep fried paneer balls with a tangy sauce; deep fried mixed vegetable cakes; lightly spiced chicken bites with a coriander dipping sauce; goujons of fish with a tangy sauce; vegetable samosas and more. These tasty little treats were all beautifully cooked, attractive and a delight on the palate. Whilst we understand that they are not all menu items at the restaurant, they were nevertheless delicious and a testament to the quality of food that we anticipate will be served there.
The word began to spread around the assembled throng that Shilpa would be arriving soon to cut the ribbon and officially open this shiny new restaurant which V8 see as their flagship restaurant of the small Bombay Bicycle restaurant chain. Shilpa arrived, the red ribbon was cut and she made her way through the restaurant glamorously decked out, smiling beautifully as she acceded to the requests of guest after guest as they asked her to pose with them for a picture to be taken. Needless to say, we didn't ask – I hate pictures of me! But it was fun to watch. Shilpa is not just the glamorous Brand Ambassador for V8, she also is a substantial investor in the group and is very involved in the development of dishes, passionate as she is about Indian food. We also understand that she takes a keen interest in the development of the company more generally
The launch was a very enjoyable party and a celebration of V8's success; with delightful food and a seemingly unending supply of Champagne, it was fun.
The other Bombay Bicycle restaurants can be found in Balham, Holland Park and Hampstead and together with this new Chelsea restaurant they all have a home delivery option, there are also delivery kitchens in many locations across London.
For more information about Bombay Bicycle, go to the web link below.
Bombay Bicycle, 438 Kings Road, Chelsea, London SW10 0LJ Tel: 020 7565 8000 www.bombay-bicycle.com