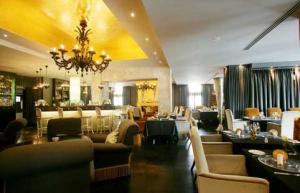 Last night we had a meal that is only available for a few days more.
Pino Lavarra, executive chef of the two Michelin starred Rossellini's restaurant at Palazzo Sasso in Ravello on the Amalfi coast, is at Brunello at The Baglioni Hotel as part of a year long exchange of chefs.
The menu below is being cooked for just a few days more and for my money, and hopefully yours, blows away every other fine dining Italian in London right now with its beautiful presentation, playfulness, taste symphonies and Italian sensibilty undiluted by a need to be Frenchified to chase a star.
Considering Pino had only arrived in London the day before and was working in a strange kitchen, this was impressive stuff indeed.
Really recommended
Appetizer
Beetroot carpaccio served with warm salad of burrata cheese, roasted squid, sea bass gnocchi with crispy chicken skin.
Starter
Buffalo mozzarella: cooked, raw, liquid and iced
Pasta
Spaghetti 'alla chitarra" flavoured with basil chlorophyll and wrapped in swordfish paper with baby squid stew, and squid ink sauce
Pasta 2
Baby cannelloni filled with robiola cheese, Neapolitan 'Genovese" stew and summer truffle sauce.
Fish
Rossellinis Tuna steak served with white aubergine puré, souffled potatoes and caper scented sauce
Meat
Filet of lamb wrapped on Podolico cheese crust, vegetable sticks' and 'mirror" potatoes.
Pre dessert
Sicilian Blood oranges whit earl grey tea iced cream and chocolate Parfait.
Dessert
Amalfitan Lemon soufflé whit raspberry & beer sherbet.
£95.00+Service per Person
To book please call Alicia Johnson –
Groups and Events Coordinator –
0207 3685802
Brunello Restaurant, The Baglioni Hotel, 60 Hyde Park Gate, SW7 5BB, Tel: 020 7368 5900