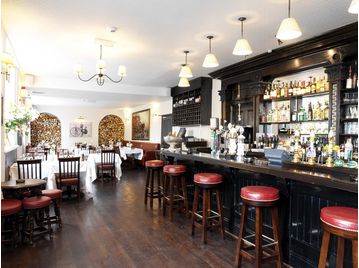 The gastropub now sits at the top table of the British restaurant scene following an extraordinary rise in recent years.If Tom and Ed Martin are contenders for the throne of London's gastro kings, it's fitting then that we find their latest opening, the Cadogan Arms, in the regal setting of King's Road, Chelsea.
The pair have successfully combined upmarket pub grub with classy drinking venues in the Gun and the White Swan in Canary Wharf and Chancery Lane respectively, to name but two of their stable. The latest arrival is another example of fashioning a stylish brasserie from a tired-looking boozer, whilst retaining traditional pub values.
At the launch event, held on a balmy evening in May, I found myself rubbing shoulders with hundreds of well-heeled members of the Chelsea set.
They could easily be pictured whiling away Saturday afternoons in the Cadogan Arms, blazers draped over chairs, sharing a half-pint of prawns from the bar menu before heading upstairs for a game of American pool.
As for the dinner menu, there are plenty of comfort food faves such as salmon and haddock fishcakes, pork belly with caramelised apple, and steak and chips. But the aesthetic flourishes of head chef Darius Endriukaitis really shine through in the starters. The brilliant yolk of a quail's egg, for example, which made an appearance as a canapé atop sautéed wild mushrooms on white toast. It shone just as brightly as the rings on the fingers of pretty young blondes, which sparkled as they downed mojitos in black dresses.
The refurbished interior harks back to a chauvinistic era when ladies wouldn't have been allowed anywhere near such drinking dens, however.
The stuffed foxes' heads mingling with Robert Dighton's drawings of the Victorian gentleman won't be to everyone's taste.
An equally naff selection of snooker-related prints and photographs – 73 in total – crowd out the walls of the 'billiards room', unforgivably including two paintings of dogs playing pool by Cassius Marcellus Coolidge. But the variety of alcoholic and culinary delights on offer at the Cadogan Arms will surely enhance Martin and Martin's "gastro-empire". Find out more at www.thecadoganarmschelsea.com
Daniel Lombard