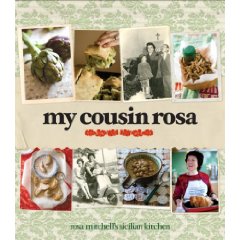 Rosa Mitchell was born in Messina in the Sicilian mountains. When her grandfather had finally had enough of subsistence living he went to Australia to find work and, a year later, Rosa's large family followed him out. There family life continued much as it had in Sicily, revolving around harvests, births, deaths, marriage and always food. Food was where the family got together, to preserve produce, to argue about recipes and guard traditions by passing on knowledge from generation to generation.
Today Rosa runs a very successful restaurant/café in Melbourne and this book is essentially her Sicilian legacy of recipes, written down so that as the subsequent generations begin to forget about Sicily, as is inevitable, the recipes and the traditions with them can still be passed on, even down to making salamis in the barn.
Theis soulful book is divided into sensible sections that essentially follow the long timeline of an Italian meal – antipasto, brodo, pasta, carne e pesce, verdura and dolce. Each is punctuated by Rosa's reminiscences of her life and her family's life in Sicily and the lovely photographs of both food and countryside throughout are in the currently popular style which flattens colours to attractive earthy tones.
Italian recipe books are thin on the ground – everyone seems to want to cook like a Michelin star chef with all the frills that entails. Italian cooking is never really going to be Michelin material, it's food made simple and food that simply relies on quality seasonal produce and the knowledge acquired from all the cooks that have gone before.
The dishes here are all I would ever really want to eat on my desert island; snails don't come in a porridge, they come with lots of oil and garlic whilst rabbits get put in a ragu and not some fancy shaped piece of frippery. Those lovely orecchiette (little ears) pasta mix with a sauce of anchovies, broccoli, dried chilli, garlic, parmesan and good olive oil to create a dish that is the very essence of robust flavours. A dish to eat while downing great gulps of teeth-staining red table wine. It doesn't need any thing flasher than that, and preferably the wine should come without a label and in a chipped one-litre carafe.
What could be simpler than Veal Marsala? Fry the veal quickly, stick to one side, add Marsala and cream to the pan and there's your main course in less than five minutes. Meatballs in tomato sauce is a classic dish – the meatball sauce is tossed with pasta for the first course and then the meatballs eaten after with a crisp salad. Delicious.
We could all do with a cousin like Dora. Failing that this book of recipes and reminiscence will do just fine, a treasure trove of food that makes for very happy families.
Murdoch Books. 240 pages. R.R.P. £25.00 – £16.25 on Amazon