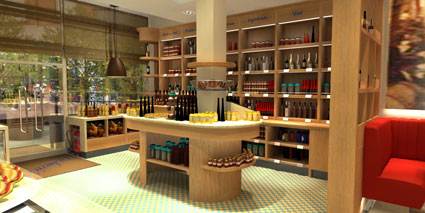 'This summer, from 7th June to 1st August, Carluccio's will take you back to the ancient vineyards of Sicily with a season of Vini di Famiglia (wines from families) as they celebrate their annual wine festival. The eight week festival will see Carluccio's feature some of Sicily's best wines, conduct special wine tastings, host winemaker dinners and serve authentic Sicilian produce and seasonal delicacies.'
These wines have a wonderful background. The family-run Planeta winery and the Cantine Settesoli co-operative is located in one of the most important wine producing areas in Sicily, Menfi. For three generations thousands of Sicilian families have devoted their lives to perfecting the art of traditional wine cultivation.
Wine growing is deeply imbedded in their culture and every year the whole community comes together in September for the wine harvest.
Throughout the festival, every Thursday, every Carluccio's will offer free wine tastings in the deli where visitors can sample all the wines on offer and learn more about their background.
This includes a chance to sample Planeta Alastro (from Planeta) £12.50 which will be sold exclusively at Carluccio's in the UK! Grecanico grapes are blended with Chardonnay to create this rich, fruity, easy-drinking wine.
There will also be special wine dinners at selected Carluccio's where visitors can dine on Sicilian specialties paired with the ideal Sicilian wines – some of these dinners are hosted by winemakers from the vineyards themselves!