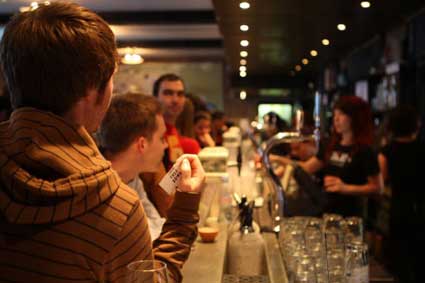 We were invited to Camino to sample the new range of wines that owner Richard Bigg is introducing, in association with his supplier Ben Henshaw, from Indigo Wine, who specialises in the supply of Spanish wines. This cavernous tapas bar/restaurant with its exposed Victorian brickwork giving it a kind of rustic feel, is set in the courtyard of The Regent Quarter, a stone's throw from King's Cross Station, in Pentonville Road.
In all we tried 5 wines, starting with the Dama Vintage cava, a dry, crisp, refreshing wine with some acidity and a moderate effervescence, this wine could rival many a Champagne, and in these days that's well worth knowing about. We moved on to the Verb Albera, a white, which had a dry freshness together with a round body which we understand had developed in the bottle due to the aging process, when drunk young, this wine apparently has a much crisper, lighter texture. We moved on to the El Gordito, a well rounded quite full bodied red that had a softness on the palate and a slight dry edge in the mouth. The Zorzal another red, was lovel, its softness combined with good red fruit flavours. Finally we tried the Uno, a monestral again with good body and soft roundness in the palate.
Accompanying these lovely wines an array of tapas dishes were offered to invited guests, these included: a very fresh, tangy gazpachio, that had some heat, despite the fact that it was, of course, cold; some devine scallops that were wrapped in ham and cooked on the shell in a lovely creamy sauce; frittata that had good flavour and a surprisingly light texture; little pasties that had remarkably thin pastry and were generously filled with a good, robust tomato mixture, and of course there were plates of thinly sliced chorizo and dishes of marinated olives. All of these lovely little tasters gave the taste buds a good workout and were well supported by the wines we were sampling.
In these days of spiralling wine prices, Richard told us that he is maintaining the cost of his house wines, he said that some of the other less expensive wines have risen in price, but that he has cut the margins on many of those in the over £20 in order to bring them into the more affordable range. From what we sampled, Camino's tapas is vibrant and delicious, the wines being introduced were excellent, it is worth checking out, spending some time there and enjoying both.
You can find details about Camino on www.camino.uk.com and about indigo wine on www.indigowine.com . Both sites are worth a look.
akandpa