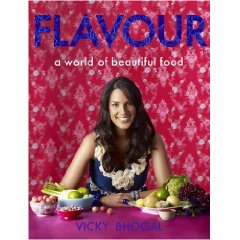 With her first book, Cooking Like Mummyji, Vicky Bhogal used her experience of growing up an Anglo-Asian to bring real Punjabi cooking back home. Here were authentic recipes that were, to non Asians, a bit of an eye-opener. Then came a Year of Cooking like Mummyji which went further by cooking with the seasons in a variety of Asian styles. Now with this book, Vicky has embraced pretty much the whole world as the title suggests.
So here is everyday cooking with ingredients sourced from around the globe- cooking beyond borders Vicky calls it, but we might call it fusion. Handled badly it could also be called a mess but here it's kept under firm control. The author says she doesn't question what an ingredient is or where it comes from, she simply sees it for 'what it is' because after all, as she points out, when Columbus brought chillis to India if he'd been told to take the strange nasty foreign things away again what would Asian food be like today? They embraced the new taste and worked with it
Her recipes and cooking are fuelled by 'what if?' and if it turns out badly she sees it as a lesson learned and moves on. Here though are the one hundred recipes that succeeded, things like Scallops with bitter lemon and lychee, Gin and herb broth, Spaghetti with edamame beans and pecorino and Paprika and parmesan chicken skewers. Desserts are equally inventive with Elderflower jellies with papaya, Apricot and cinnamon fudge with chocolate chips, Chilli and pomegranate chocolate brownies and Char grilled pineapple with salted caramel.
Vicky's writing style is a bit Nigella-ish, without the self-congratulation, so that it's a rich read with the adjectives and adverbs sometimes a bit overpowering. Hemingway would have shaken his head at this and then gone for his shotgun. The recipes though are really unique and interesting and practical chapters on useful techniques, store cupboard basics and sections that are clearly labelled Before, In The Middle and After then are broken down into sub sections such as Share, In a Bowl, Salads and Small Plates help the cook in all kinds of practical ways, not least in planning a menu.
The book certainly delivers fresh new flavours and new experiences and nothing seems beyond a normal cook's competence, although Vicky must be more alert than I am at breakfast if she can make flatbreads. It's all I can do to open the cornflakes without serious mishap and third degree burns. A great book for the jaded cook.
{ISBN:0340963182}