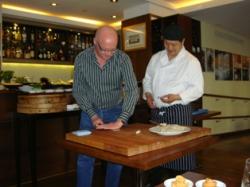 Since its opening last November, Chinese Cricket Club, set within Crowne Plaza Hotel in Blackfriars, London has, we understand, attained some popularity for its menu of Sichuan specialties with a modern twist. Our own Anita Pati went there to sample their cuisine in December last year.
Executive Chef, Brendan Speed, describes the restaurant's cuisine as 'maintaining the roots of Chinese cooking, but with some developments' which give the food a more modern twist. He will be hosting a series of masterclasses that it is intended will reveal the secrets behind some of the restaurant's most popular dishes. We attended a preview of these presentations. It lasted a little over two hours and during this we were encouraged to put our senses to the test by tasting, smelling and touching some of the specialist ingredients that are the staples of Chinese cooking. Brendan has helpfully developed a useful brochure giving some background information on the origins of and the history behind these ingredients to support his presentation.
A selection of dishes were prepared in front of us, showing us traditional methods of bringing together the distinctive flavours and the delightful aromas that are the cornerstones of Chinese cuisine. Sadly, we were not able to see the dishes cooked, for health and safety/fire regulations/food hygiene reasons; although I would have liked to see it, this didn't detract from the presentation at all.
Brendan was assisted throughout by his team of Chinese chefs, including his dim sum specialist who showed us how they are prepared. Indeed, yours truly even had a go at making a round for a shell shaped prawn dim sum, and even though I say it myself, I didn't make too bad a job of it – for a first attempt.
During the masterclass we were served with five separate courses featuring those dishes prepared before our eyes. These included a selection of Chinese Cricket Club signature dishes including lovely Soft Shell Crab, delightfully dressed Cloud Ear Mushroom Salad, some very good Pork Sui Mui, crispy and full flavoured Fried Sea Bass with Garlic and Chives, tasty Ma Po Tofu and Chawan Mushi, an interesting dessert of a coconut flavoured crème topped by a sauce of three fruits. All were lovely.
The masterclasses provide a good opportunity to get an insight into Chinese cuisine and if you are so inclined, like me, to participate as well as to ask questions. All this, while sampling some excellent food.
The intention is that classes, which are limited to ten people per session, will run on Fridays, from 16th April, between 2.30pm to 4.30pm. The price per head is £57.00 but this includes beverages; we had the restaurants own label Semillon Blanc (Silly Mid On) and their Cabernet Sauvignon (Cover Drive) so named specifically for the restaurant and both were very good.
I can see these presentations being a popular team building pursuit or something that a group of friends who are Chinese food lovers might do for a different afternoon out, to give an early start to the weekend. If you are interested in booking onto one of these masterclasses you should contact the Chinese Cricket Club direct on 020 7438 8051 or by email to loncy.ccc@ihg.com.
To read Anita's review of her experience at the Chinese Cricket Club, in December, click here.
Chinese Cricket Club, Crowne Plaza Hotel, 19 New Bridge Street, London, EC4V 6DB