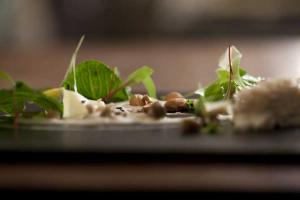 Texture is the brainchild of Icelandic Chef Agnar Sverrisson and Sommelier Xavier Rousset. Opened in 2007, both Sverisson and Rousset started their new venture after working together at Raymond Blanc's 'Le Manoir Aux Quat'Saison'. The menu is modern European with a little Icelandic influence, not just in ingredients but also in modernity and technique. In January this year, Texture was awarded a Michelin star, which some would say was long overdue and so I beat a path down to the restaurant to try the delights Texture have to offer.
We arrive at Texture and are shown to our table, a cosy little nook which overlooks the rather interesting 'open' plating area. In most restaurants, the plating area usually resides in the kitchen, but in this case is actually within the dining room. Depending on which table you are seated at, you can see how your food is being plated, sauced and garnished, similar to a Chef's table but not actually in the kitchen. Each plate seems to be given an incredible amount of attention with every little detail being executed in a seamless fashion by the surrounding huddle of white-clad men adding the finishing touches to each plate.
Chunky rustic bread, a wafer-thin assortment of deep fried miscellany and an amuse bouche of creamy pea mousse are just some of the treats we begin our meal with. Chef Agnar Sverrisson has arranged for a tasting of the some of the best dishes on the menu and so the coming courses are very much an exciting mystery as yet. The first course of beetroot, goat's cheese with rocket and balsamic vinegar and chervil ice cream is a palate of vibrant colour. The dish is wonderfully simple with clean flavours and the added interesting element of chervil ice cream, which works perfectly with against the sweetness of the beetroot.
Our fish course is a classic salute to Scandinavian cuisine, with organic salmon 'Graflax' (the Icelandic spelling for 'Gravadlax') cured with a delicate coating of herbs and pepper with an accompanying horseradish sauce and tiny little pieces of broken rye bread, which is entirely scrumptious. This is the kind of dish I could eat forever with batting an eyelid.
Next up, comes a signature dish of char-grilled English Quail, with sweetcorn, shallot, bacon popcorn and red wine essence. One does often wonder how a Chef decides to put certain ingredients together, but no one component is less appealing because of another. The quail is tender and sweet and the kernels of sweetcorn burst in my mouth releasing their juice, complimenting the salty bacon. A tad confused about what I should be doing with the popcorn, I simply pop them in my mouth once I have finished everything else.
Our next course is char-grilled grain-fed beef rib eye with Ox cheek, served with horseradish and an olive oil Béarnaise. 'Olive oil Béarnaise, you say?" – Yes, because interestingly, Texture do not use cream or butter in their cooking and as written on the menu it is actually a 'B"arnaise' sauce, rather than your garden-variety Béarnaise. The beef is meltingly tender and the dish itself is incredibly simple showcasing the meat beautifully. The Ox cheek is perfectly cooked and seasoned and seems to be a perfect pairing for the horseradish sauce. The rich and mousse-like 'B"arnaise' works well with the beef, but in my humble opinion is no substitute for a classic Béarnaise sauce.
Dessert arrives as another Texture signature dish of Icelandic Skyr with rhubarb, muesli and granite. Skyr is to Iceland what Mascarpone is to Italy and although technically a cheese, the flavour is more like a very thick and creamy Greek yoghurt, but incredibly low fat. I really like this dish as I adore rhubarb and the Skyr's creamy, yet sharp flavour, works incredibly well with it, finished beautifully with a much needed crunch of Muesli to add texture, which is really what the whole menu is about.
Overall the restaurant area is simply decorated, with open wine racks and a few vases of tasteful flower arrangements. There is a cosy little bar adjacent to the dining room and a lovely 12-seater private dining room for more intimate gatherings. The menu is largely straightforward and unpretentious and each dish takes a handful of great ingredients and fuses them together to make something uncomplicated, unfussy but utterly delicious. These are just the kind of things that illustrate exactly why Texture were one of just six restaurants to be awarded a Michelin star this year and deservedly so.