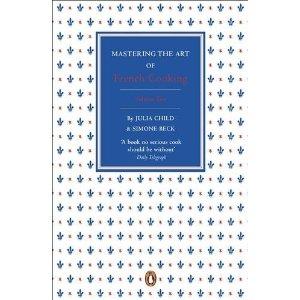 The 2009 film Julie and Julia with Meryl Streep was a surprise hit, and it probably came as no bigger a surprise to anyone than it did to the woman that wrote the book of the same name Julie Powell
Or perhaps not; throughout her book Julie comes across as something of a smarty pants egocentric who may well love her long-suffering husband Eric madly, but she clearly loves herself even more.
Her big idea was to cook every recipe from a forgotten 1960's cookbook she found at her mother's house, a cookbook almost every housewife in America owned at one time and that book was Mastering the Art of French Cooking. Then she would blog her efforts as she went along.
This at the time was a novel idea, when blogging was in its short infancy, and she collected a host of followers keen to read her day's dispatches. In all the fuss about Julie though, some people forgot about Julia.
Now to complement the original MTAoFC there comes reissued Volume 2 to remind us of the Grande Dame's achievements.
Julia Child died in 2004 aged 91. Although born in America she started a cooking school in Paris in 1951 and her first volume came out in 1961. It was a best seller almost immediately, being called a seminal culinary work.
By today's standards, it looks dull. But it 's not. There are no fantastic photographs, no gimmicks, no nothing. Instead it relies on luminously clear writing, some simple drawings and the accumulated genius of generations of French cooks.
Everything you need is in Volume 1. An encyclopaedia of cooking techniques that you can turn to with confidence again and again. Any serious cook needs it on the shelf.
So what does Volume 2 bring to the soiree? Well this time, assuming you have mastered her first volume, Julia takes you on a journey through a repertoire of recipes. Volume 1 was a book of fundamental techniques, of all the lessons taught at her cooking school. Volume 2, as Julia herself says, ' is a continuation but not on every front. We have selected seven subjects and pursued each only in the directions we felt were most useful or interesting.'
And that includes, Soups from the Garden- Bisques and Soups from the Sea. Baking. Breads, Brioches, Croissants and Pastries, Meats, Chicken, Charcuterie, Vegetables and Desserts.
Unlike her contemporary English cookbook writers, Julia does not have their rather matrician upper middle class style of writing, probably through being American. And although she is clear and definite about what she wants you to do, she leavens her pedagogic style with dry humour as well as a metaphorical shoulder to cry on when things go wrong.
In fact she becomes a friend in the kitchen, one can almost hear her voice and imagine her standing beside you and that, like Volume 1,is part of what makes these books such a joy to own and use.
You don't have to own Volume 1 to enjoy Volume 2, but like any great work of art it should be read in the sequence its owner intended. If you already have Volume 2, then you will need no encouragement to get Volume 2.
{ISBN:0141048425}
You can win Volumes 1 and 2 plus the book Julie and Julia and a DVD of the film in our great competition