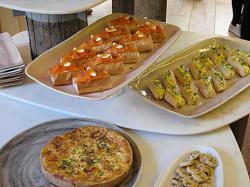 As someone who has tried to make bread many times, and I don't count my attempts with a bread machine because that just involved a lot of swearing and waste, I think I understand what a remarkable skill it is. Visiting The Bread Factory made that extra clear to me.
If I lived closer to Cocomaya's artisan bakery though, I would abandon my attempts entirely because these bakers are at the top of their game. They sell over 70 kinds of bread and pastry here in this newly opened adjunct to their luscious chocolate shop and the crust is definitely upper.
Beautiful breads of all descriptions tumble off shelves, and for those with not much to do of an afternoon, then a sit down tea has to be worth having. I tried a selection of filled rolls, brioches and fancy pastries and all were perfect and nicely set off by the shop's bleached wood interior. Delicious quiches too, as well as fruit tarts and savoury biscuits.
They also make desserts in a glass as well as many items that are nut, dairy, sugar and wheat free so even those with intolerances, and even those with real intolerances, can eat happily here.
The creators of the boutique bakery and chocolate shop are three of London's key players in fashion and lifestyle and have known each other for nearly two decades. Walid Al Damirji (fashion and accessories designer and consultant), Joel Bernstein (former head of concept at Liberty of London) and Serena Rees (founder of Agent Provocateur).
You can find this slice of heaven at 12 Connaught Street, just follow the crumbs!