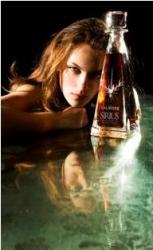 How galling is it to find a fly in your £800 a glass whisky? Unless, of course, it was placed there? It probably wasn't meant to be the fleck of parsley that it later owned up to be, but the drama enhanced my Burns Night supper even more.
I was at the intimate, oak-panelled offices of the Spectator magazine as a host of Dalmore whisky. This little love in my tumbler was from the last known bottle of Dalmore Sirius, a 1951-vintage single malt whisky with a retail selling price of £20,000 per bottle. Apparently there were only ever 12 bottles of the Sirius in the world, all of which sold out in four days. This one had been aged in cherry barrels and tasted like wild heather in inclement weather. With a dash of Keralan clove shrub seeping in. Its vapour made my eyes water. It was certainly very fine though I'd maybe have preferred the cash.
It's taken me a week to recover from that night so here is my entry, a wee bit late. So, I sat next to the vastly entertaining Mark Amory, one of the longest serving literary editors in Britain who regaled me with insider gossip and scandal, most memory of which has been blitzed by the scotch. Oh but his friend Auberon Waugh featured! Nick – our beloved Ed and Waugh-monger – was most jealous of me. There were three members of the hoi polloi too around the table of 14: the Spectator is hoping to host more of these events where readers share dinner with the journos. The detail, however, is yet to emerge. Beware, or maybe, be excited Ladeez! I was one of only three women at this gentleman's club.
Yet it was a perfectly honeyed night. My cock-a-leekie soup, a little bland, was nicely jazzed up with, um, dates. Amazing fillet of venison, pinkly perfect, with a deconstructed haggis whose spicy insides had been mashed with the neeps. This was lovely though Mark – yes, what a namedropper I am – didn't want his so I gladly obliged. Pudding was traditional cranachan with mixed berries and cream and a little too whorish for me. Whorish? The Etonian set's gone to my head. I did slip down a few berries though. And a couple more whiskeys. But none, alas, so pricey as my first, parsley-garnished jewel.