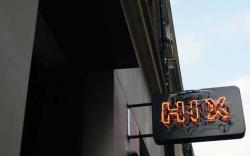 The press release may rather over-exuberantly assert that there is 'a distinct smell of mulled wine in the air' and that 'it must be Christmas' but one can still wearily accept that tinsel and an overweight man with a penchant for sherry in December (Santa or your great uncle) are not far away.
Pack away that charred, encrusted mess that is the barbeque then and, urged on by Davidstow, focus on snow, roast meats and cheeseboards in particular. New for the upcoming winter season are Davidstow's 'Cornish Classic' and 'Cornish Crackler' cheddars, with Hix Soho the chosen venue for showcasing how well these new cheeses snuggle up with various drinks-cabinet offerings.
Mark Pitts-Tucker, the Davidstow Head Cheese Grader and Nathan Outlaw, a rather decent chef with a love of Cornish produce, talked about the quality of the raw ingredients that give both cheeses their creamy flavour and the desire to make Davidstow products reflect the region of their manufacture, rather like the notion of terroir in wine production.
Fiona Beckett, a contributing editor to Decanter and fellow host for the evening, made some excellent pairings for both the mellow Classic cheddar and the slightly older, more intense Crackler. More surprising than the successes with the red wines she chose was the combination of the Classic with a lightly oaked Chardonnay, proving cheese and white wine can be happy partners despite tradition. The qualities of a smooth, creamy Doombar ale were reflected in the milder Davidstow cheddar while Tribute, a beer heavier on malt and bitterness, tasted better with the Crackler.
The endorsement of food products by well-known chefs often brings a small but discernable upward turn to the corners of a cynic's mouth, and while Nathan Outlaw may be 'in it for the cheese' in more than one sense, he needn't be ashamed of his association with these two enjoyable cheddars.
And Merry Christmas everyone, apparently.