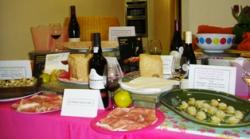 The Discover the Origin campaign has hit London. The purpose of the campaign is to promote five European products, those being, Parma ham (PDO – Protected Designation of Origin), Parmigiano-Reggiano cheese (PDO), Burgundy wines (AOC- Appellation d'Orogine Controlee), Port and Douro Valley wines (DOC – Denominacao de Origem Controlada). Each of these protective markings are coveted by producers. They denote international recognition that the product comes from a specific area and that the product cannot be produced to the same quality in any other part of the world. The campaign, which is financed by the European Union, with additional support from France, Italy and Portugal has its aim to raise awareness of these products, the importance of their provenance their certification that they are unique to the region and of their quality.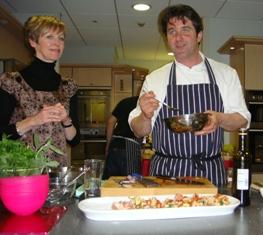 To show us how good these products are, the campaign enlisted the help of renowned Chef Mike Robinson and wine expert Susie Barrie, Mike conducting a masterclass creating dishes using these products and Susie selecting wines that matched the dishes Mike was creating, all with the intention of encouraging us all to search for the real thing when wishing to purchase these products. Our afternoon started with a glass of bubbly Cremant De Bourgogne, a very refreshing tipple with which to nibble at canapés, Parmigiano Reggiano and Parma Ham. Then we tried a white port and tonic in a 1:4 ratio with ice and a twist of lemon, which was a surprisingly good drink, refreshing and light, it would be great on a warm summer day.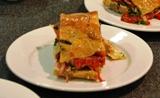 Mike then started cooking, first a risotto with shallot and parmesan, using 30 month aged Parmigiano Reggiano, the cheese giving the dish such a great depth of flavour. Susie paired this with Santenay Premier Cru, a lovely wine and a great combination. For his next dish, Mike put together a rustic salad with mixed leaves and some basil, Parma Ham and the Parmigiano, this well-dressed salad had some bite and was complemented very nicely by a Chalonnaise white. He made a soup next with pea and rocket as the main ingredients, the pepperiness of the rocket came through well, as did seasoning from a hunk of Parmigiano rind that he let simmer in it, served with a Parmigiano fondue swirl it had great flavour. Next was griddled pesto chicken breast with a pea, rocket and cannellini bean mash, for which Susie chose a red Burgundy and they were lovely together. Finally Mike made a robust rustic sandwich with tomato, Parma Ham, Parmigiano artichoke hearts and much, much more, it was bursting with flavour. Susie recommended a Douro and having tried this on its own I wasn't sure, it had a bold dry edgy flavour that I wasn't keen on, but with the sandwich it became much rounder and softer in the mouth and was very pleasant accompaniment to it.
Other taste sensations were tawny port with dark chocolate that married together very nicely, and some sweet canapés with other ports. Certainly the products we tasted were full flavoured and excellent quality, worthy of their protective markings, and absolutely worth checking out. These markings have a dual purpose, in so far as they protect the regional producers against imitations by producers elsewhere worldwide, they also are a stamp of quality that enable you as the consumer to be sure you are getting exactly what you are looking for, so it is worth checking the label when you next go shopping.
To find out more about these products and about the campaign, go to www.discovertheorigin.co.uk