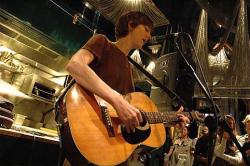 Feeling a bit peckish? Not compared to a large percentage of the world's population who find the dilemma of what to eat for dinner less of a problem than finding something to eat full stop.
We are lucky, as Bill Knott who has been a supporter if Action against Hunger for over nine years, said last night at the launch of this year's Fight Hunger/Eat Out campaign. The assembled critics, gourmets, and those who had snuck in to see supporter Beth Orton play an acoustic set at the same microphone later, all nodded wisely while quietly suppressing burps. Canapés circulated and champagne flowed at Oliver Rowe's Konstam restaurant in Kings Cross and the tautology of fighting food poverty while eating sea bass on Little Gem lettuce was not ignored.
Indeed it's integral to the fight Hunger/ Eat out method of fund raising. There is, they feel, no point in trying to make us all feel guilty for what we have; we would have it anyway. We can however give something back as we enjoy ourselves and the method is quite simple.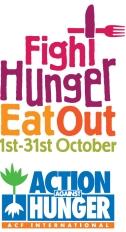 Throughout October Michelin star and independent restaurants, chains, cafes and gastro pubs will join in the fight against hunger by inviting us all to help make a difference simply by eating out.
Some will add an optional donation onto the table bill; others will donate a set amount from one or more dishes on their menus; and many will hold special events and donate the proceeds.
Last year more than 500 restaurateurs helped raise awareness of Action Against Hunger and raised over £400,000 towards the organisation's vital work. This year you can do your bit by encouraging restaurants you know to take part but even better, choose participating restaurants as places to spend your money.
Peter Blake and Tracey Emin have both donated works to be auctioned to raise funds for Action Against Hunger and you can find out a lot more about the organisation's very good works by going to the website.
Oh and Beth Orton was jolly good, even if she didn't play Central Reservation which is my personal favourite. Mind you she looks like she could do with eating a good meal herself, she's as thin as a breadstick. A nice bowl of pasta is what that girl needs.