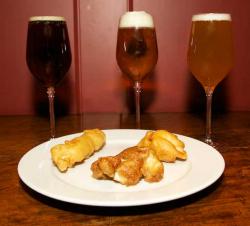 Fish and Chips, now 150 years old is, depending on where you live in the UK, good bad or downright terrible. The dish that helped batter Hitler – it was never rationed and special trains were laid on to ensure the whole country got their portions every day – has in too many places descended to be a sad shadow of its former self.
Kebab shops do fish and chips on the side as an extra to the revolving grilled elephant's leg in the window. They all too often serve bad fish and even worse chips, in fact some places have even been caught using the cheaper Catfish and passing it off as Cod. They get prosecuted of course.
What Fish n Chips needs is a different kind of prosecution, people prepared to stand up for our traditional food, to wave a large chip in the face of encroaching kebab shops, curry houses, chicken coops and pizza pastiches. Yes we love our multicultural food but you don't have to be a member of the BNP to also want to see fish n chips given back some status and respect.
And so we gathered in the basement of that bastion of Britishness, Bentley's in Swallow Street, to hear experts on the food that fuels the country talk about 150 years of deep-frying, salting and Sarsons on the top. The fact that Bentley's is owned by an Irishman, Richard Corrigan, in now way damped down the patriotic spirit and the man himself sat hugely at table, cracking jokes and making serious inroads into the Marston Oyster Stout he was helping himself to. The rest of us stuck with the Bank's Mild we'd been given, the porter was actually part of a beer tasting to follow, but Richard exercised droit de seigneur and supped on.
Chip shop owners do what they do, what they don't do is make speeches, and so some of them dried up as badly as a bit of cod left in the hot box overnight. The crowd willed them on and they recovered each time to drop useful snippets of info about best practice, best oil, best temperature and best spuds. We ate mushy peas, from tins, from Corrigan and from one of the speakers, Fred Capel of Chez Fred Fish and Chips in Bournemouth plain and with added colour. The tinned stuff was a violent green and tasted bland, the home made was better but Corrigan's despite being a horrible brown colour, did taste best, although he'd used a lot of salt as well as vinegar, which is not part of the official recipe but then he is Irish after all.
We tried chips made from different spuds; Maris Piper still being almost everyone's favourite although Cabaret from the same family seemed even better to me. And what about batter? Regions have their favourites apparently but all get their batter from a batter supplier like Middleton Foods and their CEO was on hand to explain the science and the quality control that makes the batter consistent enough for the chip shops to trust it when the queues build up. A good batter must be crisp, but not hard, and withstand the journey home. This, he said, is where good old fashioned paper scores highly – letting out steam but maintaining the heat.
Batter made with beer is popular, changing the batter according to the beer's make up' Light golden beers make light golden batters, unsurprisingly, but a dark beer whilst making a less visually attractive batter does make a very tasty one as we found out when trying fish fried in a variety of beer batters.
And after a beer tasting with all the batter types, we all agreed one thing – more chips! We left quietly hungry but determined to seek out the better chippies -in London that's Olleys of Herne Hill by the way, local to me and now part of my food map of South London.
Also try other award winners:
Petrou Brothers in Cambridgeshire
Colmans in Tyne and Wear
George's in Derbyshire
Chez Fred in Bournemouth