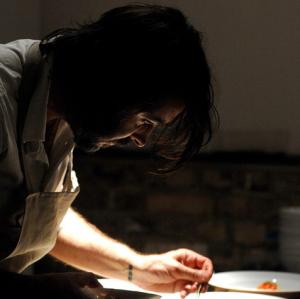 It is still very early days yet but Nuno Mendes' 'Viajante', is tipped to become THE hottest new restaurant in town. The restaurant is located inside the Town Hall Hotel in Bethnal Green, which is ever-so trendy these days despite the worrying numbers of hooded A.S.B.O teens and the noticeable presence of patrolling police cars.
We began with a cocktail (or three) at the bar adjacent to the restaurant. The decor is a cross between 60's boarding school, with odd retro wooden armchairs and wooden bench-couches with grey upholstery and an airport lounge – It's all part of the quirky-coolness that makes new restaurants stand out. The bar menu is dotted with drinks, snacks and wines as well a nod to Mendes' heritage in the form of the humble Portuguese 'Super Bock' beer.
Viajante's dining room is quite pretty with class-room like wood panels, blue 'lace-effect' walls, twee little bowls of spring flowers adorning every table and cherry blossom arrangements dotted around the place. We are literally sat at the best table in the house in front of the open kitchen. There are three menus to choose from offering 6, 9 and 12-courses, the latter of which should appeal to only the very brave and hungry among you. We are told that although we are welcome to view these menus, they would prefer for us to refrain and 'be surprised'… interesting. We choose to follow their advice, place our trust in them and wait patiently to see what is served to us.
Amuse Bouches are served in quick succession beginning with toasted crostini topped with almonds, black olives and romesco sauce. Freshly baked mini baguettes with a sublime 'brown butter' chicken skin and lardons are placed on the table. More Amuse Bouche are served with Mendes' famous 'Thai Explosion' – mini sandwiches of toasted bread with chicken skin, filled with shredded confit'd chicken, coconut milk, chillies and coriander – which were absolutely incredible and lastly a smoked aubergine paste served almost like Baklava between two sheets of crisp filo pastry topped with pistachio nuts, accompanied by a mini glass of consommé gelee, layered on top of a soya milk gelee.
Our first of 9 courses is a signature dish of squid tartare with pickled radishes, samphire and frozen squid ink jus. The squid ink looks like soil but is packed with flavour and the squid itself is milky-sweet, if not a tad chewy but in the most unique and more-ish way, which when paired with the crunch of radishes makes for a triumph first course. The next course of 'Spring garden' – is literally as you would think it, a melange of spring vegetables, some raw, some given the sous-vide treatment, all painstakingly positioned using special food tweezers to produce a very attractive plate of food indeed. Although at this stage, I do begin to wonder if 'pretty food' is really going to be the theme for this evening's meal.
A razor clam shell with smoked yoghurt and rosemary dashi is brought over to us by Nuno Mendes himself with the recommendation that 'You should really eat this carefully and quickly as the liquid is quite messy" – Who am I to disagree with him? Admittedly I am slightly surprised that Mendes is serving us personally, perhaps it is just a one-off? But no, he then proceeds to serve the next 4 courses to us also.
Roasted celeriac with onion tapioca pearls with Sao Jorge cheese, Skate wing with brioche, yeast and cauliflower followed by pigs neck and prawn served with Savoy cabbage, langoustines, fried capers and grated egg, all expertly served and explained to us by Nuno himself. I'm a very happy bunny indeed at this stage, having started at very light and delicate food; I did begin wonder whether I may need to grab a late-night kebab on my way home. The genius of the menu is now evident in that each course is carefully thought about, constructed and put together for your enjoyment with a build-up that is intentionally slow and steady so that each dish takes you just one little step higher up the ladder of satisfaction. On our last few bites of the pork we discuss the new Petrus restaurant, which is now not linked to Chef Marcus Wareing and that his restaurant is simply called restaurant 'Marcus Wareing' – and it is precisely at this point that I casually turn behind me only to realise that, bizarrely, Marcus Wareing is seated within earshot of us with friends and is try Viajante. Scary, very scary. In hindsight, I only wish we would have talked about George Clooney instead!
Cleaning and refreshing our palates with its aniseed kick comes a Thai basil ice cream laced with an acidic lemon powder, followed by the first dessert of a carrot mousse with both sweet and pickled carrot, buttermilk and a brave and punchy dill granite. This was definitely one of the most special desserts I have ever had. I'm not a big fan of sweet things, but I could have eaten that semi-frozen carrot mousse at least three times over. The final dessert is served, a dark chocolate fondant with hazelnut ice cream, praline powder and a blackcurrant gel. This is the course that although delicious, suddenly sinks to the bottom of my stomach signalling my absolute incapacity to eat any more. I swigged a final gulp of my delicious 'Torcolato' dessert wine only to be presented with yet another course of 'Crema Catalana' – a sherry infused vanilla custard and a plate of petit fours, which include a dark chocolate truffle filled with white chocolate ganache infused with Cepe mushrooms – hands down one of the most bizarrely delicious chocolates I have ever eaten in my life.
After all that food, I feel quite ill actually. I think it was the Cepe mushroom chocolate thingy that sent me over the edge, but to be perfectly honest I am craving one right now as I type. But after all that I have come to the conclusion that 'Viajante' is not your every-day type of restaurant. If I had to put it in a category, I would safely say it would be best grouped along with Heston Blumenthal's Fat Duck, as it is a unique and innovative experience, that you may choose to visit again one day, but only for a special occasion. Nuno Mendes' experience at the much-hailed El Bulli is greatly evident, with sous-vide techniques as well as the more bizarre fusions that molecular gastronomy help create in order to wreak havoc on your taste buds.
Viajante is not your average eatery, let's be honest… it is more of an 'experience' than a run-of-the-mill restaurant, but it is quite special indeed. I think that it is definitely somewhere that the consummate foodies among you should experience before it becomes too trendy, too popular and too impossible to get a reservation at. For people who aren't really into food, Viajante would only be wasted on you and with menus ranging from £60-£90 per head, it's not cheap either. But for me personally, how can you put a price-tag on pleasure?