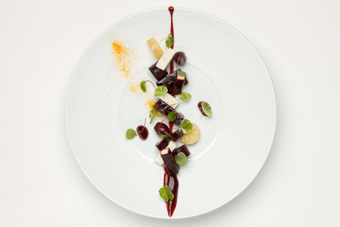 High flying travellers now have even more reason to take to the air with Lufthansa. The leading German airline is famous for having only the best chefs to cater for their First and Business Class passengers' discerning tastes. Now Chris Staines, Head Chef of the Michelin-starred Foliage Restaurant at the Five Star Mandarin Oriental Hyde Park in Knightsbridge, has joined the culinary mile high club.
Chris, who has worked at Nico Landenis and with Marco Pierre White, is a passionate believer in British food that comes from the finest and most sustainable sources and only chooses the best. At a special dinner at Foliage Chris provided guests from the press and Lufthansa's senior management a taste of what passengers can expect on Lufthansa long-haul flights out of the UK. This will include a choice of hors d'oeuvres such as his Rabbit Terrine with English Mustard Sauce and Cucumber Relish plus a Beetroot Salad with Goats Cheese and Pine Nuts. Main courses may include Classic Fish and Chips with sauce Remoulade, mushy peas and potatoes as well as Filet of Beef Wellington with Truffle Jus, Carrots and Broccoli. For desserts a Chocolate Dome with Cassis Cherries and Fruit Coulis, and the thoroughly British Bread and Butter Pudding upgraded with Brioche and a Calvados Sauce and Raisin Ice Cream, are just some of the delights on the menu.
Chris was lured out of his kitchen but preferred to let his food do the talking. For those unable to get to eat at one of London's premier fine dining restaurants, this taste of the best of British cuisine aboard Lufthansa flights can only encourage them to try Chris's creations on the ground as soon as they can.