108 Marylebone Lane, London, W1U 2QE
020 7969 3900 | E. info@marylebonelane.com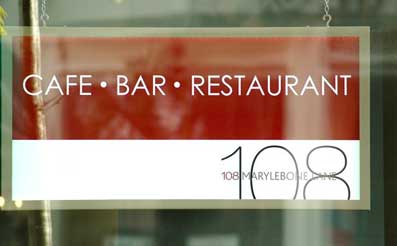 Once upon a time in a job far far away, I used to walk from Oxford Circus to Marylebone for my pub lunch and pint. This was before the ban on lunch hours in general, and drinking during them in particular, became common HR policy. Back then it seemed a cute little backwater area and really nothing has changed. Marylebone Lane still meanders pleasantly, as indeed I used to on those occasions when one pint had slipped into three. I couldn't afford a restaurant then but I can now, especially at 108's prices.
108 is the restaurant of the hotel around and above it and we've come because we've heard that in these tight times they do a good deal on lunch; £12 for two courses. The lunch menu has three starters and three mains with daily specials, so the choice is restricted but that's fair enough. I'd rather pick from three dishes Chef can cook fresh, than a choice of twenty, many of which will have the main components sourced from bottom of the freezer. Here much is made of produce bought locally, most notably from The Ginger Pig.
The large space is standard modern hotel chic; biscuit browns and creams, large lampshades and, rather quixotically, ceiling fans turning lazily while an arctic wind blows outside. It's warm and welcoming though and quite a few people have wandered in to eat, although like so many places right now it's by no means full.
Red lentil soup with pancetta has the deep earthiness I crave in lentils and the aroma of good stock, possibly made with a ham hock. Pureed but not sieved so as to retain a decent velvety texture, it's a generous bowlful and only needs a bit more seasoning from the rock salt on the table to bring it properly alive. Another starter of chicken liver parfait with toasted sour dough bread and a pear and walnut chutney comes on a plank of wood which makes it an awkward fit on the table, but it's a pleasant presentation even down to the tussle of watercress in the centre which looks perky and squeaky green. The parfait is indeed perfect, a large slice with a rich livery colour and as smooth as Jonathan Woss picking up his pay cheque. Toasted sour dough can shatter and be hard on the Hampstead's, but that's my problem not chef's so no complaints there.
The day's special of pork belly with red cabbage comes as one piece on a big red bed. I'd have liked to have seen it divided up a bit to show off the layers of pork but it's been slow-cooked well so that the fat has reduced and resolved into flavour, while the meat tears away easily in fibrous forkfuls. Red cabbage too often is acidic and hard work but here it's been sweetened and softened to make a good partner. I did rather wish for a bit of mash with it though and some greens wouldn't have gone amiss. The otherwise pleasant and efficient waiter missed a trick not selling in such extras.
The day's veggie option, potato gnocchi sautéed with aubergines and cumin, flageolet beans and parmesan cheese was made of tidy little gnocchi gently browned and crisp outside while billowy soft inside. So often these can be gluey, especially if made with the wrong potatoes. The aubergine's smooth flavour accented by the armpitty cumin (sorry but it does have a unique aroma) went well with the mealy beans and sharp bite of parmesan.
Desserts were extra but mostly worth it; the cheesecake light and fluffy and not the rather hard going New York style, but the chocolate mousse was the opposite and rather stodgy. I ate it happily enough though but rather regretted it later as I tried to get up the stairs at home.
108 does a good job with its lunchtime deal, enough to make me want to try the evening offering. A good, not so little place, in a nice little area.
Nick Harman