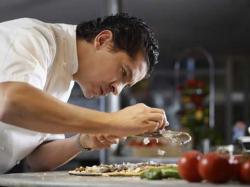 If you were looking for London's food writers on Monday night, you'd have found most of them in Pizza Express in Greek Street, Soho. They weren't there because they all suddenly got the munchies for an American Hot, they were there because Francesco Mazzei was.
Francesco is currently one of the most feted Italian chefs in London, his restaurant L'Anima a magnet for anyone who loves pure, fine, unfussed food. The current, long overdue, backlash against the chemistry set cooking inspired by El Bulli is seeing critics rediscover the simple joys of a bowl of perfect pasta and even pizza.
And Francesco is now the new guest chef for Pizza Express and for my money the first worth getting excited about. He has created six exclusive dishes for their menu, launching today in Pizza Express restaurants across the country.
Standing at the back of Pizza Express together with chef Alan Yau and a gaggle of chef groupies, Francesco seems smaller than usual. In his kitchen at L'Anima, when we interviewed him last year, he filled the place with his energy and authority. Here he is cool, dapper and smartly turned out and clearly rather enjoying this unusual setting and evening. The place is heaving and he's seeing some of the more snobbish food writers attempting to eat pizza one handed – I don't think some of them had ever eaten a pizza before in their lives.
Francesco has clearly put a good deal of effort and time into his menu. This is not one of those rubber stamp projects that star chefs often go in for, take the money and run, this is a serious project for him. 'I'm excited to be working with Pizza Express. I've been able to marry my creative strengths with their skill in taking great quality food to such a wide audience; thousands of people every day", he says which despite sounding like carefully honed piece of copy is clearly genuinely felt.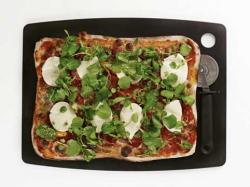 The dishes are doing the rounds and all are good. Calabrese is on the hand-stretched rectangular base stipulated by Francesco's grandmother and has slices of hot Calabrese DOP (protected destination of origin) sausage, roquito peppers, fresh green chillies and spicy soft n'duja sausage plus peppery watercress dressed with pesto, grana padano and fior di latte mozzarella.
Mia Sofia, named after Francesco's young daughter who apparently loves mushrooms, is topped with Portobello, cup and oyster mushrooms as well as truffle pasta, mozzarella, chives, oregano and basil oil on a thin, crisp Romano base and finished with parsley and grana padano. Nice to have a pizza with no tomatoes for a change.
We also get to eat Insalata Semplice a classic Italian first course salad of buffalo mozzarella, Santos and vine tomatoes, rocket and toasted ciabatta tossed with red onions, chives, Italian oregano and basil. Then, as Francesco's recipe demands, it's dressed with olive oil from Calabria, red wine vinegar and honey.
A few hours in and it's like a giant party, the chefs are cheerfully flinging out more and more pizzas and Francesco is disappearing in the now sloshed crowd. This guest chef idea is another great concept from Pizza Express, the only pizza place that could pull it off with integrity. Consistently home of the tastiest pizzas in town, they now have in Francesco, my lady friends, tell me, the tastiest chef in town too.