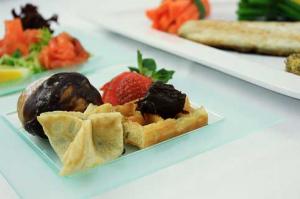 Enjoy a truly romantic 3 course dinner for two, at home, with the 'À la carte Gift Box'from London's Flying Chef. Couples can indulge in their ideal romantic setting with scented candles, flowers and Barry White on in the background whilst sipping Champagne as the feast is delivered directly to their doorstep.
Couples can treat their taste buds to a menu that includes sensuous smoked salmon laid on a bed of mixed leaves drizzled with a luscious lemon and oil dressing to start, velvety fillet steak with a creamy peppercorn butter with dauphinoise potatoes and fine green beans tied with yellow zucchini ribbon for main, and to finish 'the lovers dream' a trio of indulgent mini desserts including Tia Maria cream filled profiterole and a waffle with a quenelle of chocolate. (N.B. Main courses come with exact cooking instructions to ensure the meal is cooked to perfection.)
Easily ordered on-line or over the phone, the 'A la carte Gift Box' is ideal for couples who want to enjoy a restaurant quality meal at home, minus the hassle and fear of cooking from scratch. This beautifully packaged box comes in three different varieties priced from: £29.95 – £49.95. Each set contains 2 starters and 2 mains complete with dessert. Package two also contains a bottle of Donna Florencia wine and four chocolates, and package three includes a bottle of pink sparkling wine and chocolates.
Each variety of the 'A la Carte Gift Box' can be ordered by calling: 020 7633 0999 or emailing orders@flyingchef.co.uk, before 10thFebruary. Couples simply view the Valentine's menu on the London's Flying Chef website: www.flyingchef.co.uk and select their desired package, starter and main course. With package one starting from just £29.95, less than £15.00 per person the gift box is fantastic value for money. www.flyingchef.co.uk
Why not try winning one here